TIGER ALUMNI CENTER -- Serving RCCU1 Alumni, Employees & Students
Classes of 1908 - 2018
Scholarships 2014



Scholarships 2014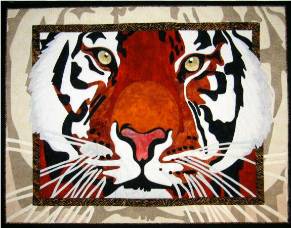 OUR TIGER ALUMNI CENTER (TAC)
WAY OVER THE TOP!!!
Thank You Schoolmates!
Ten Recipients To Be Announced
Wednesday, May 7th
Click on the Certificate below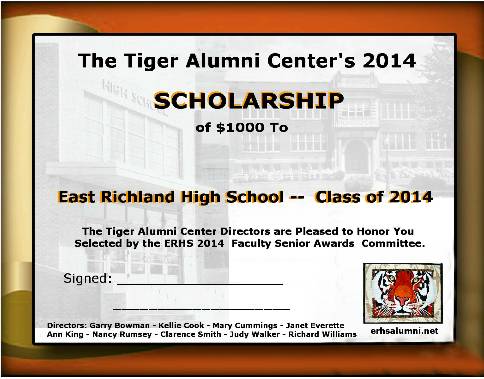 Thanks Again to our Contributors!
Contributors to our Scholarship Fund -- 2014
Tigers' First Level: $5 to $99
Gift from the Class -- Class of 1947
Members -- Class of 1949
Ted Ratcliffe -- Class of 1956
Anonymous -- Class of 1958
Anonymous -- Class of 1958
Judy Michels Lawrence -- Class of 1960
Judy Fritschle (1959) & Clarence "Smitty" Smith (1960)
Ann Weesner King -- Class of 1960
Anonymous -- Class of 1962
Beverly Anderson Drake -- Class of 1964
Kellie Bussard Cook -- Class of 1964
Jan Roberts Burton -- Class of 1964
Dee Witsman Carlton -- Class of 1964
Edward Eugene Runyon -- Class of 1964
Thomas T. Everette -- Class of 1965
Marcella Cummins (Zorn) -- Class of 1965
Fred Moehle -- Class of 1965
Joan Stark (Uhl) -- Class of 1965
Margot Shumaker (Steinhart) -- Class of 1965
Member -- Class of 1966
Janet Weiler Jones -- Class of 1970
Janet McKinney Everette -- Class of 1977
Gift from the Class -- Class of 1977
Tigers Den Level: $100 to $299
Mary Lou Marsh Brown -- Class of 1937
Fehrebacker Truck & Trailer
Keith Hawkins -- Class of 1955
Vernon Gross -- Class of 1957
Rebecca Nightingale Roth -- Class of 1959
Carl and Regina Kocher -- Class of 1959
Jerry Quick -- Class of 1959
Wayne Neeley -- Class of 1960
Kathryn Haenggi Robinett -- 1961
Everett Schwartz -- Class of 1962
(Everett makes monthly donations)
John and Patricia (Sager) Anderson -- Class of 1964
Garry Bowman -- Class of 1964
Steve Pass -- Class of 1965
Frank Wagner -- Class of 1965
Tigers Roar Level: $300 to $499
Tigers Pride Level: $500 to $999
Raj Natarajan & sister Anu Sheth (1984) -- 1991
Anonymous Member -- Class of 1961
Rex Goranflo -- Class of 1967
Tigers Country Level: $1,000 and Up
Robert Lemke, Ready Cable, Inc. -- Class of 1960
Anonymous -- Class of 1965
Thank You Very Much!
TO DONATE
All you have to do is mail a check to our high school, care of Mr. Simpson, Principal!
East Richland High School
c/o: Chris Simpson, Principal
Make your check out to "ERHS" and in the note space, write "Alumni Website Scholarship."
You will receive a letter from the school accountant for your tax record. I will receive periodic reports listing the names and the total amount of the period (not individual amounts), and I will email you, thanking you and asking details about listing your donation on the website.
Our goal this year for the 2014 scholarship is $4,000.
I have asked Mr. Simpson to develop the criteria; I have asked that his faculty, when time, select the recipient(s).
The awards are not open to application by students nor the public. Instead, they are selected by the ERHS faculty Senior Awards Committee based on the Senior Profiles completed by the students. The criteria are fairly general and are listed below.
1. A student in good academic standing - top 25% of graduating class
2. A student that has demonstrated a commitment to the core expectations of ERHS students (respect, responsibility and work ethic)
We all know the need. Many of the 2014 Seniors come from homes with limited resources and, in these economic times, may have to put off continuing their education, just as my mother had to do so in 1939. (In May, I read a ERHS board member's report that 50% of the county is at the U.S. Poverty level -- or below.) We have the ability to help.
Now, many of you know that Mary Alice Resor Hart, Class of 1960, donated an art quilt to aid in the scholarship program. It now belongs to Tracy Martin, Class of 1960! That certainly helped our 2013 Schollarship fund! Thanks Mary Alice and Tracy!
Your checks are welcome now and will be so welcomed throughout the year. Remember; mail them to the school address above. Thank you for being great Tigers!
I am not going to state the amount of your gift. Instead, I'll place your name (or the word "Anonymous") in one of the categories (See above). I do hope you will permit me to post your name. We have good evidence that suggest naming names helps increase donations. Thanks!
The school accountant sends me an email after receiving checks, listing them by the name on each check. If the name is the same as yours listed here at TAC, then I can identity you. If not, then I can't. You may need to message me after your donation to report it and so that I can list you with the other contributors. Thanks!

To see the 2013 Scholarship Recipients, CLICK on the tiger pad: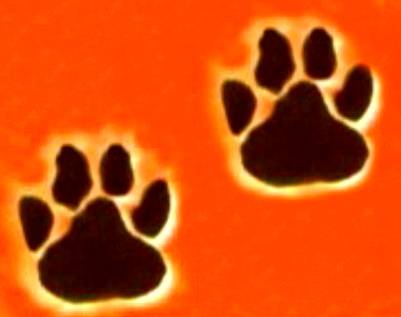 To see the 2012 Scholarship Recipients, CLICK on the tiger pad: