TIGER ALUMNI CENTER -- ERHS/RCHS

Raised by Two Railroad Men
Raised by Two Railroad Men
I always enjoy reading the contributions of Ann Weesner King's "Olney Memories." I was not disappointed with issue "142": I liked reading it all, but Roy Ed Doolin's memory about the trains running through Olney hit HOME with me. You see, both my Grandfather Williams and father were railroad men. I grew up with both of them, and so I knew the railroad business. My home-away-from home was up in the Baltimore and Ohio Railroad (B&O RR) tower, located west of the waiting station at the B&O RR tracks on Whittle Ave (Torn Down Years Ago). The picture below has to be over forty years old. The tower is located in the middle of the picture below.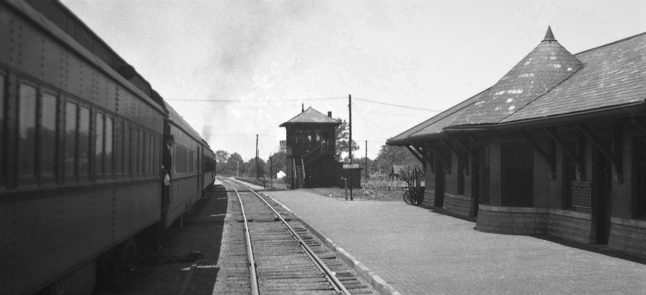 Let me set the scene. My parents lived in an apartment building (Now named Wyatt) on West Elm Street, two blocks west of the post office. My Grandfather Williams, with Grandmother Williams, lived a few hundred feet away, diagonally across the street, on Camp Street. He and dad worked at the B&O RR tower just south two streets, at the intersection of Illinois Central RR. (which coursed north and south on Kitchell Street - tracks remove years ago) and the B&O RR tracks. Between us and the tower was my school, Central School (torn down a few years ago). The school campus occupied the complete block (an "empty," mostly abandoned field now) defined by four streets: Elm on the north; Camp on the west; Kitchell on the east, and Cherry on the south.
It was a small world, my childhood neighborhood. It also included the Elk's movie theatre on Kitchell where I enjoyed many Saturday afternoon matinees (it backed up to the apartment building). And I have to include two businesses on Whittle Ave.: a soda shop / candy store on my side of the street from the post office and Jone's bicycle shop, a block south of the candy store. My trips to those places will wait for another writing session. The tower was much more important to my childhood.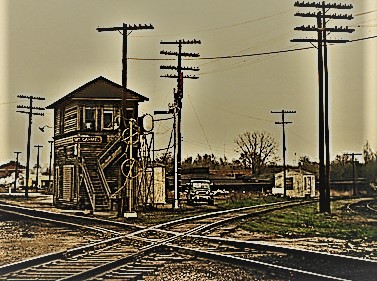 Baltimore and Ohio Railroad Tower, Olney, IL
The tower was just another block south of the school. I usually rode my bike to it. As a kid I was always welcome there, whether my grandfather or my father was on duty. Inside, I could sit on the counter next to the man on duty and listen to the chatter of the telegraph clicker -- the communication machine for RR men. I could watch his (Grampa's or Dad's) hands flipping the handle making his "dots" and "dashes" in a reply.
They were receiving or sending messages about the train traffic. For all I knew, when listening during my early years, they were sharing a secret recipe for potato soup or the guest list of the birthday party of Elmer Fudd. They tried hard to include me, however they could, up in that high tower (I expect they called my mom when they saw me coming so that she would not worry). My grandfather loved to play Checkers and so he and I played very often (I usually lost -- unless he took handicaps). My father, to my surprise, loved to read and had a collection of paperback novels on one shelf. He would push one of them to me to read.
Both men took time to give me lessons in telegraphy. At first my "dots" were too long and my "dashes" were too short. Over time I got the hang of it (Somewhat). I got good enough that my dad let me send a few very short and simple messages to a few other agents (He's got their approval in advance). I even met one of them a few years later at the B&O RR ticket booth in the Cincinnati Union Terminal when I was a high school student traveling solo by train one summer to visit a cousin. Anyway, I never seemed a bother to either of them. Indeed, I at times wondered why they were said to be "at work." They rarely seemed to be working.

Above when I write about meeting a Railroad (RR) man at the Cincinnati Union Terminal, I could also have said that he reported that he gladly agreed to meet me when my father ask him to do so. You see, my father wanted to make sure I got on the correct train as he already knew that I had to switch trains at the terminal and it was a huge and busy place -- overwhelming.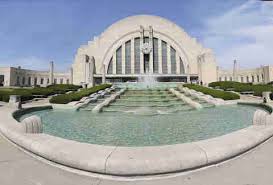 Cincinnati Grand Terminal Museum
And, Oh Yes! Yes, I was overwhelmed but greatly relieved by the help. My host didn't just take me to the correct train gate and dump me. As we had several hours to wait for my train to Tennessee, he led me to one of the terminal's restaurants where he paid for our lunch and gave me a brief history on the historic significance of the Cincinnati Union Terminal. He reported that it was a key junction in the Westward Movement of the people of the United States -- and that RR men were key players in our great history. That the RR industry of that century has no equal in today's economy, except maybe the internet. Being an employee of any RR was an honor. He also told me I had sent him a message years ago. He was nice about that and gave me too much praise. I guess I had totally forgotten.
Afterwards, he escorted me to the train gate. I still can, in my mind, see bits of scenes of waiting passengers. I can see a mother nursing a child with several other children clustered around her so close that each child seemed part of her. I also see lots of young adults in military uniforms -- some sleeping on their travel bags and others playing cards. I see a group of oddly-dressed families, I'm thinking foreigners, squatting in a tight circle, using their fingers to eat food out of containers, like jars, obviously not from the restaurants. The huge hall of the terminal was so packed with people that my vision was overloaded, resulting in my not seeing well -- "Glazing Over" I guess.
After a walk that seemed very long, we reached the gate area. There, my escort introduced me to another waiting RR man, the conductor. He greeted me as "Master Williams" and personally walked me beside the train passing car after car to mine and, inside, invited me to take any window seat. He placed a reserved sign on the adjoining seat, and then excused himself saying he had some tasks to do before the train left. I later learned that his reserving the other seat made it possible for me to have space to lie down for a nap. I did do so later, but I don't remember lying down -- I remember my head against the cool window glass as I watched the country slide pass me.
Until the gate opened and ticket holders were allowed to find their car and a seat, I was alone, maybe the solo passenger on the train at that moment. That was some experience! I, being the son of an employee, had a free pass to use the B&O RR. trains, as I had for years. I had used it, joined by my family, on many fun trips to St Louis. But, always before, I was with my family and the cars were crowded with paying passengers. I remember sitting in that silent car, leaning against a window thinking of my father. I don't, of course, remember my exact thoughts, but I do remember being impressed. My father, a silent man, rarely talked about himself. I was admittedly surprised that he had RR company friends who would volunteer to help him by helping me.
I matured a little bit on that 'solo' trip. My father was a man of connections.
I want to add a point about the smell of the tower but can't figure out where to add it and so will do so here. When I think of those days in the tower, I, of course, think of father and grandfather; but I also remember the smell. I can't place it well enough to describe it (something of a mixture of old wood, dust and oil). I just know that my memory connected with the smell. I wonder if other memories have associated odors? And the answer (I just checked) is yes. Click here. (You will leave TAC)
You see, Ann's "Olney Memories" (OM) of memories still work! Try it; read any issue. Use the navigation list to find her page here on TAC. Or click on the link below. You'll see a page listing issues. Click on one.