TIGER ALUMNI CENTER -- ERHS/RCHS

Lisa: Why You Should Donate
TPAA President, Lisa Hemrich
Reasons You Should Donate to the Scholarship Drves
You don't have a child/grandchild in school right now. No one paid your way through college. You're tired of the same people getting all the awards. The country needs more blue-collar workers, not college graduates. You didn't go to college and you turned out OK, right? Why should you donate to Tiger Pride's scholarship fund?
Even if all those are true for you, here are some points to consider:

1. Today's technological world requires more training for jobs that weren't always considered to be college graduate ones.

2. Students who pursue blue collar jobs will make more money and advance faster if they have specific technical certificates and Associate degrees, those one or two years of schooling are still expensive!

3. Tiger Pride scholarships go to a variety of students. Some have plans for a technical program or two-year degree. Some have plans for Bachelor degrees and beyond. Our stipulations encourage the selection of students who may only have a B average but have shown good work ethic and civic responsibility, rather than specifying the money go to the top 10 or 20 students.

4. We share this community. Everyone benefits when our students succeed. Hopefully, they will come back and be the welders, nurses, accountants, auto mechanics, daycare workers, counselors, and doctors in our community. Whatever we can do to encourage that will come back to us ten-fold.
Please give. Your donation, no matter how large or small, when combined with those of other donors, has the power to encourage a student to complete training after high school. You never know, that student might change your life someday.
Lisa Hemrich,
TPAA President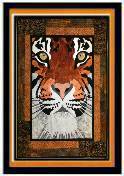 TPAA