TIGER ALUMNI CENTER -- ERHS/RCHS

2022 Lifetime Ceremony
2022
Lifetime Achievement Award (LTA) Ceremony
Saturday, September 24
2:00 pm at HV's in Olney

The 2022 Lifetime Achievement Awards will be presented on September 24, 2022 at the HV Meeting Room here in Olney, IL. The Tiger Pride Lifetime Achievement Awards began as a way to recognize alumni and/or former teachers who had a significant impact in their career!
This year the honorees are: Mrs. Felicia Bishop, Dr. Michael Bishop, Mr. Jim Turpin, Mr. Frank VanMatre and Mr. Richard Williams.

Mrs. Felicia Bishop
Felicia Bishop taught Physical Education, Movement and Dance as well as coached at the East Richland Middle School. Felicia was a leader at the local, regional, and state level in the Illinois Physical Education and Dance Association. Felicia's teams and individuals had much success with the Girl's Basketball team winning the first State Girls Basketball Tournament at Rend Lake College!

Dr. Michael Bishop
Dr. Michael Bishop is the son of Felicia and Norman Bishop. Mike grew up in Olney, attended St. Joe Elementary School and East Richland High School. From ERHS he attended the University of Illinois for his Bachelor's degree and his Medical degree, did an Internship and Residency with Northwestern and a Fellowship with Loyola University Medical Center. Dr. Bishop joined the University of Chicago Medicine where he currently serves as Director of the hematopoietic stem cell transplantation program.

Mr Jim Turpin
Mr Jim Turpin grew up in Olney, graduated from East Richland High School and then the University of Illinois. For over 40 years he was 'the Voice of the Fighting Illini Basketball and Football!' Jim hosted daily "Penny for your Thoughts" and a weekly "Saturday SportsLine" for many years on WDWS-AM. Jim married his middle school sweetheart Louise VanMatre. Louise passed away in 2019 and Jim passed away in 2022.

Mr. Frank VanMatre
Mr. Frank VanMatre grew up in Olney, graduated from ERHS and went on to the University of Illinois for his Bachelors degree and later his Master's Degree. From the Illinois Department of Transportation to Boeing to return to the Illinois Department of Transportation, Frank had a wonderful career doing interesting things. Frank served as President of East Richland Community Unit #1 Board of Education and has been active in the community by serving on the County Board Commission for the Courthouse Renovation and as the Engineering Advisor for the Richland County Development Corporation for the US Route Four-Lane Coalition.

And by popular demand of all who have been involved with the Tiger Alumni Center (TAC)and/or Tiger Pride since 2010, our final 2022 recipient is
Richard Williams
Richard grew up in Olney, had a wonderful childhood, graduated from ERHS and is a retired Professor from Lincoln Land Community College where he was in the Communications and Literature Department! Richard has received many honors throughout his career - Outstanding Faculty Member; Chair of the Curriculum Committee; honored by the Trustees of the College and the list goes on and on. !! Richard has been active in Boy Scouts of America, has talents galor and is a person who makes a difference! Certainly as the creator and person in charge of Tiger Alumni Center and the Tiger Pride he has done that! He oversees the website, raises dollars for scholarships and activities, and connects Tiger alumni to Richland County Community Unit# 1 and each other!
Please join us at 2:00 pm on September 24,2022 at HV's in Olney as we celebrate the 2022 Tiger Pride Lifetime Achievement Awards!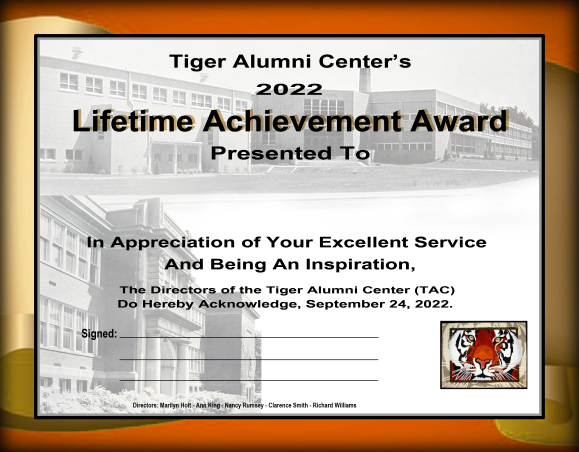 Richard's notes: My thanks to Marilyn Holt who wrote the above announcement. I'm feeling a bit shy about publishing it but here it is. Please enjoy!
Note 2: HV's Food & Spirits, 317 S West St, Olney, Illinois 62450
Tel: 618-879-2213. Click to visit the HV Website: HV Food and Spirits