TIGER ALUMNI CENTER -- ERHS/RCHS

On Becoming a Librarian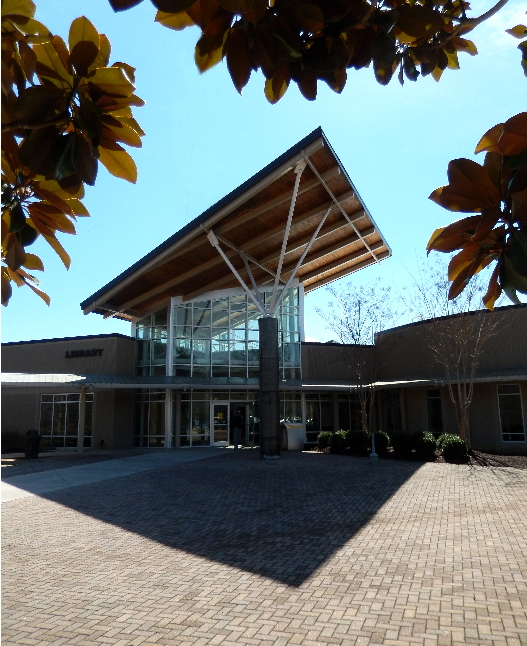 Peachtree City Library, Ptc., Georgia
New Job: R U Ready? U B Ready!
We moved to Peachtree City, Georgia, late April, 2021. Right in the middle of our moving with all that stress, I was offered a part-time position of Assistant Librarian at the Peachtree City Library. Suddenly, I would be unavailable to handle moving stress for 20 hours a week, my being at the library.
That was May 3rd, over sixteen weeks ago. I welcomed the new position as I love that library, having gotten to know 'it' and its great staff as I had been a volunteer 'book shelver' for over five years.
Another more important reason, I think, is the need to keep my mind active! To help me feel not 'old!' a few hours each day!
U B Ready: Escalating Computer Commands
When a volunteer, I never directly served the patrons. For legal privacy reasons, I was not allowed to use the Circulations Desk computers. Thus I had no knowledge of the computer processes used to 'route' books.
Yes, I knew most of the librarians, some very well; yes, I knew the location of sections of the library, much of the adult shelving 'neighborhoods' but few of those in the Children's. Yes, I knew much -- and, thus, then believed I could easily adjust to serving our patrons via the computers. I was in for a huge surprise!
Now, as an employee, I must know how to register new patrons and renew old ones, check out their books and, then later, check them back in. In the coming weeks I was to learn the very complex activity of the cycle of book routing! I was to learn the real meaning of "Circulations" behind the phrase "Circulations Desk!"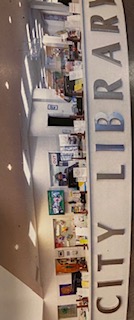 Circulations Desk
At first, another employee, usually my supervisor, had to be nearby at all times. Mostly, that condition was the result of restricted computer access and an extremely complex software. I could learn only by doing (No manuals to take home!). My supervisor is an excellent teacher who scheduled much time to teach me. However, when she was too busy (or on her day off), a no-patience, second-level administrator filled in. I tried unsuccessfully to hide when I saw her. If she heard me asking another librarian for help, she repeated her demand that she, only, was to help me. She made me feel very uncomfortable. A few of the other new librarians (five of us are new this year) would seek me out in private moments to share their opinion of the person -- not a good teacher even after 18 years at the library. They helped me feel better.
After a month or so, I realized that I had become addicted to all the help, had become lazy, and wasn't trying very hard to learn more commands. If a process required too many steps, my mind would just shut down, and I didn't listen. Realizing what was happening, I asked my supervisor to help me get independent. She saved how-to notes on the computer I used when on duty. I could review those when I had spare moments on the job -- but not at home.
One of my collegues had excellent notes detailing each of the key tasks, like checking out patron books or their return. She had let me study her notes during this period and, then, a few weeks later, gave me a copy. What a thoughful, kind gift! Those I studied during my days off.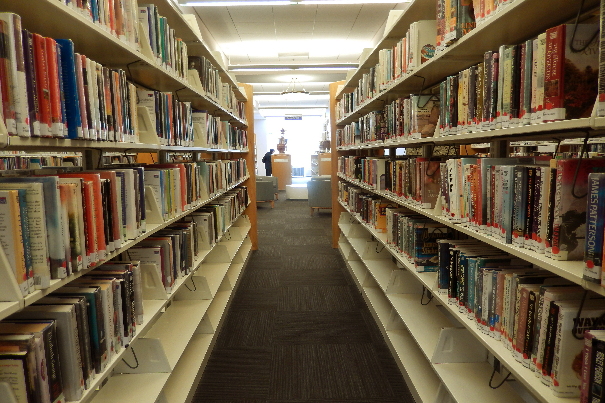 Two LP Stacks (Large Print)
I photographed her notes so that they would always be with me; anytime, wherever, I'd pull my phone out and glance at one of her pages. Gradually, I knew more and got more independent, needing less supervision. I could finish key activities, like checking books out and in. I began to relax more when serving at the desk and to enjoy getting to know our patrons with 'small talk' that I now had time to share. I would call many by name and could share a bit of some remembered chat from their other visits. I love that! I enjoy meeting people. I smile when I hear children laughing in the Children's shelves close behind me!
By late July the other staff members began to trust me to finish tasks on my own. They could briefly leave me. You see, if a patron comes up to you and says she/he can't find a book, if we're not busy, the librarian is suppose to take her/him to the stacks to find the book or check for an issue, like a missing book. The others began to be more comfortable leaving me alone at the Circulations Desk.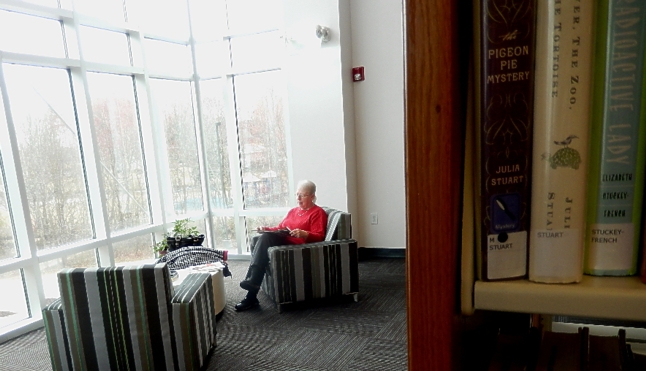 Barb reading magazines (Over 40 available)
Now, 14 weeks later, I rarely need a supervisor. Now I know many, not all, of the computer commands to serve our patrons. I'm near the top of the "Learning Curve!" That is for helping directly our adult patrons. I've got much more to learn in order to help the children in their wing of our library. That's just an example, as there are other areas of service I need to prepare for.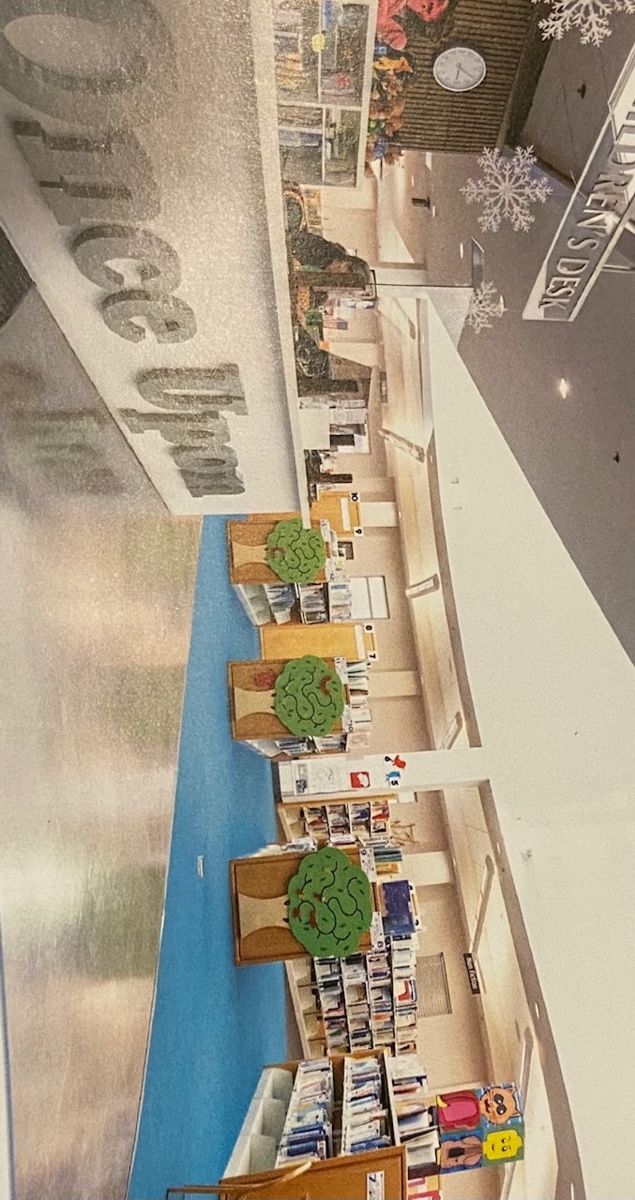 Children's Section
U B Ready -- Get shocked by reality, get motived, get help
I am now ready to serve our adult patrons. I had to change my mindset to do so. I had to accept that I was not ready (a poor team player who was consuming the time of key other employees), had to get motivated (want to change), had to study my new environment (see my issues), had to plan my development (including forming a support program), and, finally, had to work my plan (Had to come out of retirement!).
The above summarizes my progress on becoming a librarian -- as of about a week ago. Then, yesterday, my supervisor asked me how I'd feel about moving up the next level of library tasks. Of course, I said "Yes," being pleased with her notice of my progress. After our session, I realized I had more areas of book routing and library management to learn. I guess I should write that I realized that the act of becoming anything is never really over. Maybe it's as basic as a game of hide and seek: you decide to stop hiding, shake off your fears -- or feeling of being exposed -- and go out looking for the next adventure, and that achieved, get comfortable (hiding) -- until, once again, start seeking again, . . . (repeat!) again and again and again.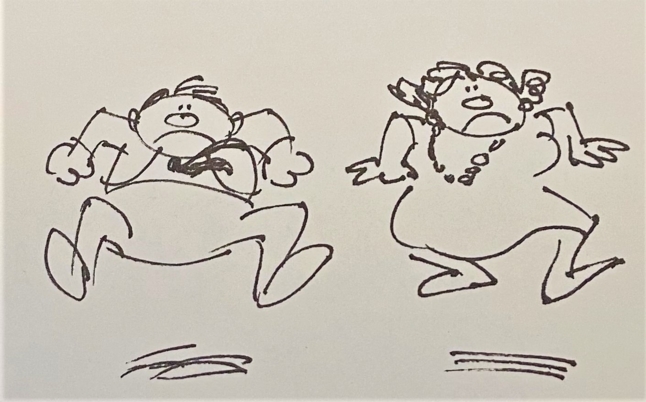 Seeking is living. Have you heard the expression, summarizing the stages of being a senior citizen? There are three: those in their 60's are in the "Go-Go Age"; those in the 70's, the "Go-Slow Age"; the 80's, the "No-No Age." The best way to fight the aging -- or to slow it down -- is to go seek new challenges. Seeking is living.
Happy Days!
Richard
August 20, 2021