TIGER ALUMNI CENTER -- ERHS/RCHS

Scholarships 2015
Scholarships 2015
Ten Scholarships!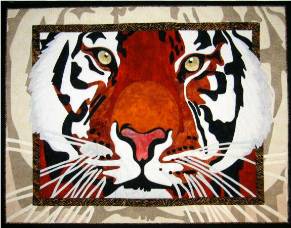 Thank You Schoolmates!
Ten Recipients Announced May 5th.
Click on the Certificate below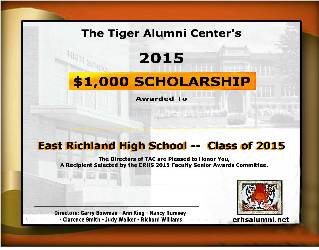 Thanks Again, Contributors!
Tigers' First Level: $5 to $99
Teddy Ratcliffe -- Class of 1956
Anonymous -- Class of 1958
Anonymous -- Class o1958
Jerry Quick for the Class of 1959
Judy Lawrence -- Class of 1960
Ann Weesner (King) (with Husband Richard) -- Class of 1960
Beverly Anderson Drake -- Class of 1964
Nancy Flick (Uhlmansiek) -- Class of 64
Jan Roberts (Burton) -- Class of 1964
Edward Eugene Runyon – Class of 1964
Marcella Cummins (Zorn) -- Class of 1965
Thomas T. Everette -- Class of 1965
Fred Moehle -- Class of 1965
Margot Shumaker (Steinhart) -- Class of 1965
Dee Witsman (Carlton) -- Class of 1965
Janet Weiler Jones -- Class of 1970
Tigers Den Level: $100 to $299
Keith Hawkins -- Class of 1955
In Memory of Myrline Holtz Bower, Class of 1957
Vernon Gross -- Class of 1957
Rebecca Nightingale Roth -- Class of 1959
The Morlock Family (Please contact me.)
Carl Kocher -- Class of 1959
Member -- Class of 1961
Kathryn Haengi Robinett -- Class of 1961
Stephen Beck -- Class of 1962
Judy Atkins (Hughes) -- Class of 1962
Everett Schwartz -- Class of 1962
(Contact me please Everett)
Jim Witschy -- Class of 1962
Nancy Kowa Boccuzzi -- Class of 1963
John and Patricia (Sager) Anderson -- Class of 1964
Garry Bowman (with wife Janet) -- Class of 1964
Jan Roberts (Burton) -- Class of 1964
Allen Hagen (1965) and Glenda Dunkin Hagen (1966)
Steve Pass – Class of 1965
Charles Fregeau -- Class of 1975
Tigers Roar Level: $300 to $499
Tigers Pride Level: $500 to $999
Judy (Fritschle) Smith 1959 & Clarence "Smitty" Smith 1960
Anonymous -- Class of 1961
In Honor of Daniel V. Borah, Jr. -- Class of 1964
Gary Goranflo -- Class of 1967
Dr. Anu Natarajan (Sheth) 1984 and Raj Natarajan 1991
Tigers Country Level: $1,000 and Up
Robert Lemke, Ready Cable, Inc. -- Class of 1960
Anonymous -- Class of 1965
Jack Olson and Jean Scherer Olson - Both of Class of 1965
CDR Olson requests that his donation include the following:
"In Honor of Richard Ray Williams, Founder of TAC, and in Celebration of Richard and Barbara (Olson) Williams' 50th Anniversary"
Thank You Very Much!
TO DONATE
All you have to do is mail a check to our high school, care of Mr. Simpson, Principal!
The Address:
East Richland High School
c/o: Chris Simpson, Principal
1200 East Laurel Street
Olney, IL 62450
Your Check:
Make your check out to "ERHS" and in the note space, write "TAC Scholarship."
The Record:
You will receive a letter from the school accountant for your tax record. I will receive periodic reports listing the name AS IT IS ON THE CHECK, the contribution, and the current total. I encourage you (1) to email me reporting your gift and the name(s) on the check if different from the one I know here at TAC so that I can identify you; (2) to allow us to post your name and your class number in one of the above categories.
Do know that we like all members to see your name and that of your class year as such publicity encourages more donations. But, do know if you request anonymity, we will respect your wish and not use your name (but placing a notice of an anonymous gift stating only your class year in the appropriate category. I will email you, thanking you. Also know that so far every year we have had gifts that go unthanked as I cannot identify the source. As the checks go directly to ERHS and to a clerk there, I have few ways to identify you. The clerk records the name on the check.
Our 2015 Goal:
Our goal this year for the 2014 scholarship is $6,000.
In 2011, I asked Mr. Simpson to develop the criteria. We at TAC never know the names of the recipients until after they have been selected by the Senior Awards Committee.
The Criteria:
The awards are not open to application by students nor the public. Instead, they are selected by the ERHS faculty Senior Awards Committee based on the Senior Profiles completed by the students. The criteria are fairly general and are listed below.
1. A student in good academic standing - top 25% of graduating class
2. A student that has demonstrated a commitment to the core expectations of ERHS students (respect, responsibility and work ethic)
The Need:
We all know the need. Many of the 2015 Seniors come from homes with limited resources and, in these economic times, may have to put off continuing their education, just as my mother had to do so in 1939. (In May, I read a ERHS board member's report that 50% of the county is at the U.S. Poverty level -- or below.) We have the ability to help.
The Campaign:
Your checks are welcome now and will be so welcomed until we close the drive, most likely in late February. Remember; mail them to the school address above. Thank you for being great Tigers!
The 2016 Drive:
Do note that we are asking that all donations via ERHS for the 2015 Drive, stop at the end of the drive. In time, we at TAC will share our plans for the 2016 Drive. Most likely that drive will be conducted by the Tiger Pride Alumni Association.
Donors List:
As stated above we like to publish your name on our donors list, but will use "Anonymous" if you request it. I do hope you will permit us to post your name. We have good evidence that suggest naming names helps increase donations. Thanks!
Note:
Thank you for helping our students. No volunteer work that I (Richard) have done in my life is the equal to the joy I feel when you donate to help an ERHS grad with continued education or training.
To see the 2014 Scholarship Recipients, CLICK HERE.