TIGER ALUMNI CENTER -- ERHS/RCHS

Christen Bishop - 2018 LTA
Christen L. Bishop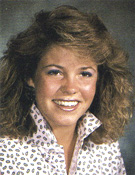 I./II. Name/Key Accomplishments
Christen L. Bishop is a 1987 graduate of East Richland High School who received her Bachelors' Degree from the University of Illinois and her Juris Doctor Degree from the University of Illinois College of Law. Currently she is a Circuit Judge for the Nineteenth Judicial Circuit Court in Lake County, Illinois. She is a member of many professional organizations and has received numerous awards including being named the 19th Judicial Circuit Outstanding Judge in the Criminal Division.
Christen Bishop or as we know her Christy graduated from East Richland High School in 1987 in the top ten of her graduating class. She was the Editor of the School Newspaper, in Jazz and Marching Band, played Varsity Tennis, and received the P.E.O. English Award. She continued at the University of Illinois and received her Bachelors' Degree in 1991. Christy was President of Delta Delta Delta Women's Fraternity; Mortar Board Honorary for Academics, Leadership and Service; on the President's Council for Greek Affairs; a member of the Pi Sigma Honorary Fraternity; Dean's List and the Orange Krush cheering section. Christy received her Juris Doctor Degree from the University College of Law in 1994. She was a Harno Fellow; a Graduate Teaching Assistant; and had a two-year internship with the Champaign County State's Attorney's Office.
Christy began her Law Career as the Assistant State's Attorney in Lake County where she served in traffic, misdemeanors, felony review, juvenile narcotics and felony trial division. She personally tried numerous jury trials in various divisions as well as drafting and approving search warrants, presenting indictments and approval of the charge. In 2001 Christy became the Chief of the Juvenile Division and had responsibility for supervising Assistant State's Attorneys and others within the office. She was responsible for reviewing all juvenile delinquency referrals and assigning new cases; handling abuse/neglect child protection cases, and trials involving termination of parental rights. In this position Christy had the opportunity to make presentations to local civic organizations, community groups and schools, as well as training of juvenile officers.
In 2006 Christy became the Chief of the Special Investigations Division where she was responsible for reviewing all special investigations which included public corruption, white-collar crime and child physical and sexual abuse. Her responsibilities included supervising investigators and all staff at the Children's Advocacy Center. Her personal case trial load included first-degree murder, official misconduct, and vulnerable victim prosecutions. She trained prosecutors, first responders, and law enforcement officers. In 2012 she became the Circuit Judge of the Nineteenth Judicial Circuit and assigned to the Felony Division to preside over trials and motions; and provide additional coverage for the Therapeutic Intensive Monitoring Courts. She is one of fifteen Circuit Judges who serves as the Board of Directors in charge of decision-making for the 19th Judicial Circuit including a 26-million-dollar budget. Christy also serves on the Education and Training committee as well as the Court Security committee, Public outreach committee, and the selection of judicial interns.
Christy is the daughter of Paul and Susie Bishop and grew up in Olney, Illinois with a sister, Courtney and brother, Paul in a home overflowing with LOVE! Her mother was the beloved Language Arts teacher at the middle school while her father was with Country Companies Insurance. It was in this Olney home and public-school district where Christy developed her leadership skills. She had the opportunity to visit with her mother in the homes of those less fortunate. She went to the river with her dad and enjoyed the outdoors and learned the value of hard work and respect for all. She learned the joy of helping people when they needed it the most. As she continued at the University of Illinois and in Lake County, it was and is Christy's confidence in knowing who she is that has made the difference! The Lake County Judge is still the Olney girl with the beautiful smile!
Christy is happily married to Gregory Nikitas. They have two handsome sons John who will be in 7th grade and William who will be in 5th grade. As a family they love going to Wrigley Field to watch their beloved Cubs play baseball. They were extremely excited when the Cubs won the World Series and are rooting for them this year. But never fear – they are true Cub fans who will be there win or next time!
Christy has always loved the victim or the underdog. From her Olney experiences to her courtroom in Lake County, she is an advocate for the victim and works tirelessly to find programs or help for those who have broken the law. She believes in the law and expects people to be law abiding. She assigns punishment while giving every opportunity for rehabilitation. Christy has helped Richland County by sharing the various programs of Lake County that are research based and working. Her work has aided in the development of a bully prevention program that is used in Richland County Schools!
Christy Bishop was a Star Student at East Richland Community Unit #1 and is a Star Circuit Judge in Lake County, Illinois. She has had a tremendous impact of helping others by her work in the courtroom and the community. Her outstanding mind, fearless courage and kind, caring heart make her indeed an exceptional lawyer, judge, and person!
III./IV. Person Willing to Attend/Additional Support
Christy would be delighted to attend if she knew she or her mother were receiving an award! Christy has attended all her class reunions and stayed in touch with her hometown. She has high school friends here who have returned to the area and they would love to come celebrate her success. We are all so proud of the beautiful Olney girl who is so successful in the Chicago area!
Respectfully submitted August 3, 2018 by
Marilyn Holt