TIGER ALUMNI CENTER -- Serving RCCU1 Alumni, Employees & Students
Classes of 1908 - 2018
Olney Memories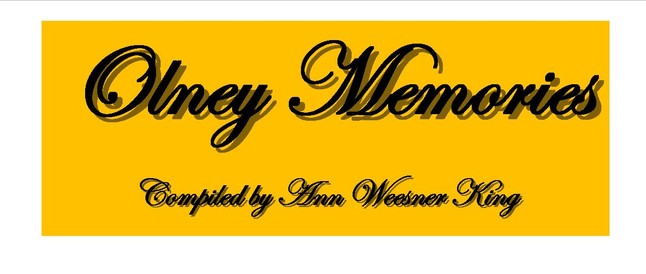 A few years ago, 2001 to be exact, Ann Weesner King conceived the idea for a newsletter that would incorporate the favorite memories of current and former residents of Olney. Thus, Olney Memories was born.
Many of you have been long-time readers of the newsletter and others of you probably heard of it but never signed up. Ann has graciously allowed the TAC to post the archives of Olney Memories for all members reading pleasure.
There are some great stories in each and every issue. We will be adding each new issue to the archives as it is published. Please feel free to peruse the archives and muse and smile as these memories will probably bring back your memories. If so, write them down and email to Ann for inclusion in the next issue.
If you would prefer to receive each new issue directly from Ann, you can send her your email and she will gladly add you to the subscriber list.
Olney Memories Archive Listing
(Click on issue number to view in MS Word)
Issue No.
Date Published
Issue No.
Date Published
Issue No.
Date Published
1
Circa 5/01
2
Circa 6/01
3
Circa 7/01
4
Circa 8/01
5
Circa 9/01
6
Circa 10/01
7
Circa 11/01
8
Circa 12/01
9
1/1/02
10
1/20/02
11
Circa 2/01
12
Circa 3/02
13
Circa 4/02
14
Circa 5/02
15
Circa 6/02
16
11/2/02
17
Circa 12/02
18
Circa 2/03
19
Circa 4/03
20
7/2/03
21
8/1/03
22
8/10/03
23
Circa 9/03
24
Circa 10/03
25
Circa 11/03
26
Circa 12/03
27
Circa 2/04
28
Circa 3/04
29
Circa 4/04
30
Circa 5/04
31
Circa 6/04
32
Circa 7/04
33
Circa 8/04
34
10/30/04
35
Circa 11/04
36
Circa 12/04
37
Circa 1/05
38
Circa 2/05
39
Circa 3/05
40
Circa 4/05
41
Circa 5/05
42
Circa 6/05
43
Circa 7/05
44
Circa 8/05
45
Circa 9/05
46
Circa 10/05
47
Circa 12/05
48
Circa
49
Circa
50
Circa 12/05
51
Jan '06
52
53
54
55
56
57
58
59
60
61
Doc Wattleworth
62
63
64
65
66
67
68
5/29/09
69
6/30/09
70
71
10/19/09
72
12/18/09
73
1/8/10
74
1/29/10
75
2/27/10
76
3/6/10
77
4/6/10
78
4/30/10
79
6/9/10
80
8/1/10
81
9/6/10
82
12/27/10
83
3/5/11
84
3/30/11
85
5/30/11
86
7/16/11
87
9/4/11
88
9/25/11
89
1/2/12
90
1/28/12
91
3/19/12
92
3/28/12
93
5/12/2012
94
6/11/12
95
7/28/12
96
8/8/12
97
9/1/12
98
9/21/12
99
12/1/12
99B
12/24/12
100

2/6/13

101
4/18/13
102
7/02/13
103
7/22/13
104
9/23/13
105
Christmas 2013
106
Valentines 2014
107
March 2014
108
Memorial Day 2014
109

Happy Fourth 2014

110

8/04/14

111
September 2014
114
January 2015
115
Valentine's
116
Spring 2015
117
June 2015
118
September 2015
119

New Year 2016

120
Feb 26 2016
121
March 2 2016
122

May 3 2016

123
May 13 2016
July 6 2016
125
July 2016
126
August 18

127

August 30 2016
128
October 2016
129
January 6 2017
130
March 14 - St Pat
131
Mother's Day - 2017
Number 132 not used
133
July 21, 2017
134

August 26, 2017

"PUMPKIN CENTER STORE GIRL"

135

September 25
136
November 7, 2017 - Happy Thanksgiving
137

December 15, 2017

138

February 16 2018

Jim Turpin

139

May 8th, 2018

May Day Parades

Cummins Municipal Band

140

June 11, 2018

May Day Parades