TIGER ALUMNI CENTER -- Serving RCCU1 Alumni, Employees & Students
Classes of 1908 - 2018
Regional Reunion - Spring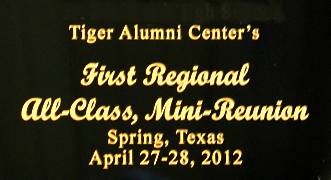 (Scroll Down for the Slideshow.)
Something never done before happened the last week-end of April, 2012. The Tiger Alumni Center held its first REGIONAL, ALL - CLASSES REUNION. Hosted by John Fritchey (Class of 1961) and his wife Charmaine, the two-day event was held in Spring, Texas. Twenty-one alumni and their spouses or other guests attended.
The Alumni came from almost as many different classes as the number of alumni attending. They represented both the Olney Township High School and the East Richland High School and ranged over 50 years from the class of 1936 and 1940 to 1987.
Garry Bowman

1964

(with wife Jane)
John Fritchey

1961 (with wife Charmaine)
Linda Hawkins Gross 1956
Michelle Kocher Goldsmith 1987 (with husband Tom)
Bob Lemke

1960 (with wife Jenny)
Tom Singley 1961 (with wife Anne)
Bitsy Walker Sinex 1964 (with husband Don)
Ann Weesner King 1960 (with husband Richard)
Richard Ray Williams 1960
Barbara Olson Williams 1962
Ralph Stoddard 1956
Helen Jenner Mehmert 1940
Herma Jenner Dycus 1936
Tanya Iaun Bentsen 1966 (with husband Gary)
Doris Kay Wagner 1964
Valerie Parker Gibson

1978
Alicia Gay Goodrick 1982
Cindy Quayle Dale 1962
Doris Kay Ellison Wagner 1964
Nancy Dycus Bowles 1967
On Friday evening a Happy Hour and Dinner was held at Raoul's Italian Grill. Great food and ever greater conversation.
Saturday Morning, Barb and Richard Williams led a shopping tour in Old Town Spring.
The coup de grace was Saturday Afternoon. John and Charmaine Fritchey hosted a Texas barbecue lunch and social hour(s) from noon to 5.
We want to call this event our FIRST REGIONAL all-classes reunion as we intend to sponsor more. If you would like to host one in another region of the USA, let us know! We have one offer pending.
Special Thanks go to John and Charmaine Fritchey who made this event possible.
We are also thankful to Richard King who shared over one hundred of his pictures of the event with us.
Happy Days!
Richard
May 5, 2012
This video was taken during the 'Circle of Friends' storytelling time.
P.S. If you click on the first picture below, it will automatically start a slide show to view all the pictures.