TIGER ALUMNI CENTER -- Serving RCCU1 Alumni, Employees & Students
Classes of 1908 - 2018
One Big Change for 2016 Drive
Information on Combining Leadership
And
Trusting the RCHS Committee

Richard Williams, Founder, TAC and TPAA
This 5th RCHS scholarship drive begins with my having the highest trust and joy in partnering with our high school's Senior Awards Committee.
Last year, when I founded the Tiger Pride Alumni Association (TPAA), I expected to begin transferring some of the activities of my website, Tiger Alumni Center (TAC), to TPAA, when it was ready. This fall the directors and I began such steps. In summary, in the process of working directly with administrators of Richland County school district, we (1) adjusted the leadership of our RCHS 2016 drive to include both TPAA and TAC; and, (2) voted to request that the school selection committee use the following three criteria, written for us by Mr. Simpson, and on December 5th, approved by the TPAA directors.
1) Students in good academic standing and at least a 'B' average.
2) Students that have demonstrated the Core Expectations of RCHS Students of Respect, Responsibility and Work Ethic.
3) Financial need of the student is considered in the selection, but it is not the sole criteria.
The above represents a clarification of the actual past practices of the RCHS (ERHS) committee, not any new focus.
For the past four years you've joined me as I directed the drive. This year you will not only see my name on our campaign messages, but you will, from time to time, see those of various TPAA directors.
Let me give you some highlights of how this shift to a combined TPAA / TAC led drive also resulted in the TPAA directors electing to continue to working with the school.
A key step was a November 23rd meeting, hosted by former ERHS principal and current Assistant Superintendent Chris Simpson and RCHS Principal Chad LeCrone. They met with TPAA directors, President Kellie Cook and Director Judy Walker. Kellie and Judy reported to the other TPAA directors at our last December 5th meeting that the school committee should continue to select our recipients based on the following:
The selection committee completes all other scholarship recipient selections for all other scholarships BEFORE moving to select our recipients.
The committee members then work on the selection of potential recipients by reviewing their career at RCHS. When they reach a consensus, the final selections are made.
I welcome a fifth year of working with RCHS. I welcome you to do so too by donating! Remember to send your check to Janet Everette.
Janet Everette, Treasurer, TPAA
906 East Cherry Street
Olney, IL. 62450
Please make your check out to Tiger Pride Alumni Association
To return to the 2016 scholarship, click
http://www.erhsalumni.net/Scholarships-2016.htm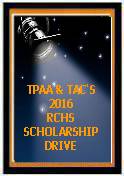 Thank You For Caring/Sharing!
Richard