TIGER ALUMNI CENTER -- Serving RCCU1 Alumni, Employees & Students
Classes of 1908 - 2018
Simpson - Scholarship Program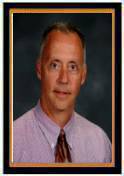 On the Scholarship Program:
Chris Simpson's Review, Recognitions and Request
Thank you to the members of the Tiger Alumni Center, and all alumni that are scattered throughout the United States. As a result of your generosity, since 2012 we have been able to award a $1000.00 scholarship to 51 graduating seniors. That is a total of $51,000.00. The response of our alumni has been overwhelming!
Having served for many years as the high school principal and the facilitator of the scholarship program, the checks that the alumni mailed in during the scholarship drive came directly to me. Many of you that sent in a contribution also included a short note about your time attending East Richland High School (now Richland County High School). When I received one of these notes, it was always a highlight of my day. I really enjoyed hearing about the experiences you had while attending this school. Some of you identified a specific teacher that stood out, a particular program in the school that you were active in, or an event like Homecoming or Pow-Wow as a fond memory.
I can tell you that while many things may have changed since you graduated from high school, one thing has remained constant. This high school is still a place where students can explore their interests and passions, connect with teachers that encourage their dreams, and build a strong foundation that will help them succeed in the next phase of their life. I hope you appreciate knowing that the commitment to student success that you experienced while a student is alive and well at Richland County High School.
As I look at the list of 51 students that have been the recipient of the Tiger Alumni Center Scholarship since it began in 2012, I take great pride in having known these young people. They represent a diverse group of students that had very different experiences while attending this high school. Some of the students were near the top of their graduating class, some of the students were more interested in exploring career and technical opportunities, some of the students spent more time in music or the arts, and some of the students were in serious financial need. With those differences, there is one thing that all of these students shared. They made the school a better place with their presence. As an alumnus and as a donor, you can be assured that the students selected for the Tiger Alumni Center Scholarship represent you, this high school, and this community very well.
Thank you for your past support, and I hope that we can count on your contribution for the Richland County High School Class of 2017.
Onward!
Chris Simpson
Assistant Superintendent of Schools
December 11, 2016