TIGER ALUMNI CENTER -- Serving RCCU1 Alumni, Employees & Students
Classes of 1908 - 2018
2013 Lifetime Recipients
Tiger Alumni Center's
Lifetime Achievement -- Hall of Fame
Inductees of 2013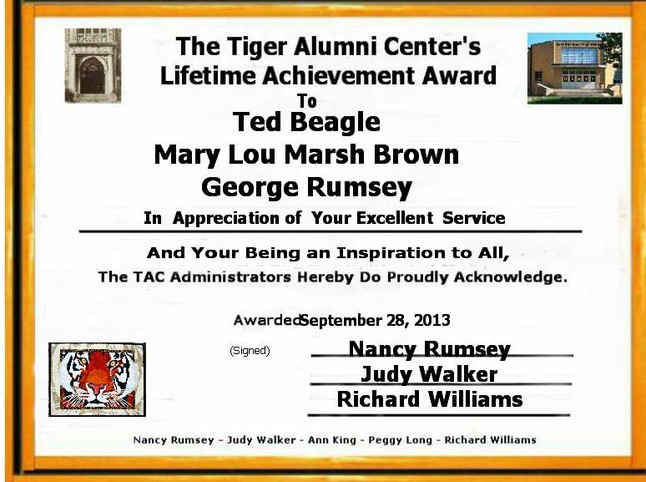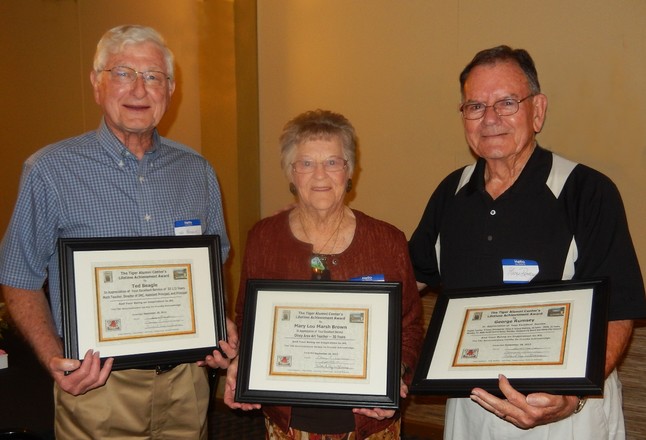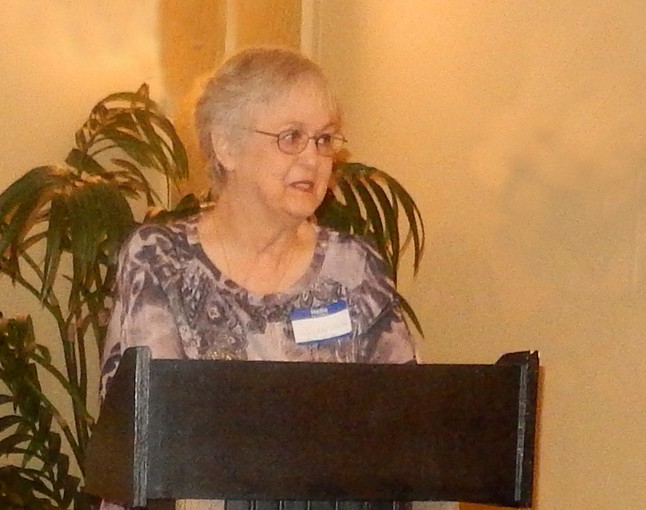 Judy Hill Walker -- MC
TAC Faculty Administrator and Past ERHS English Teacher

The Honorees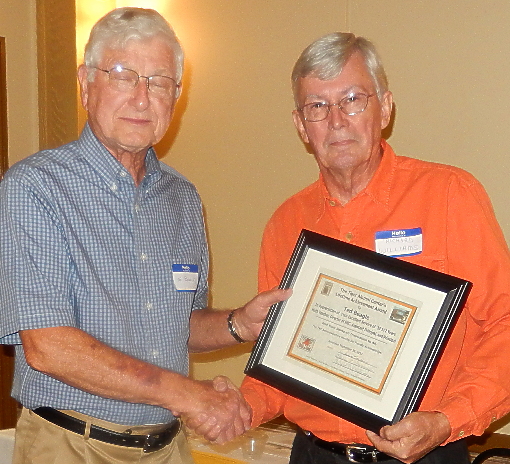 Ted Beagle -- Richard Williams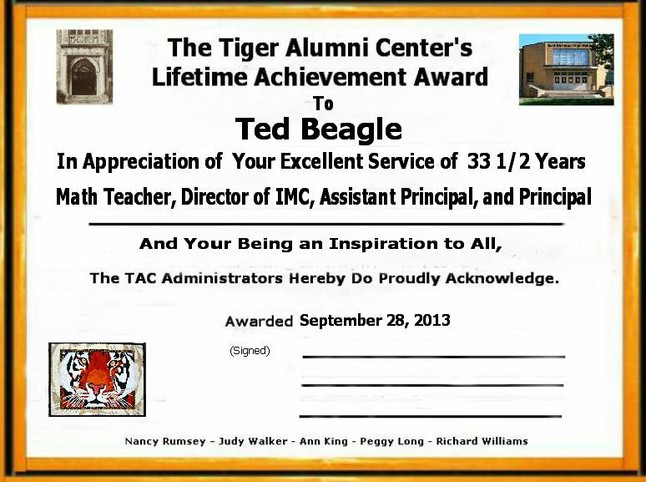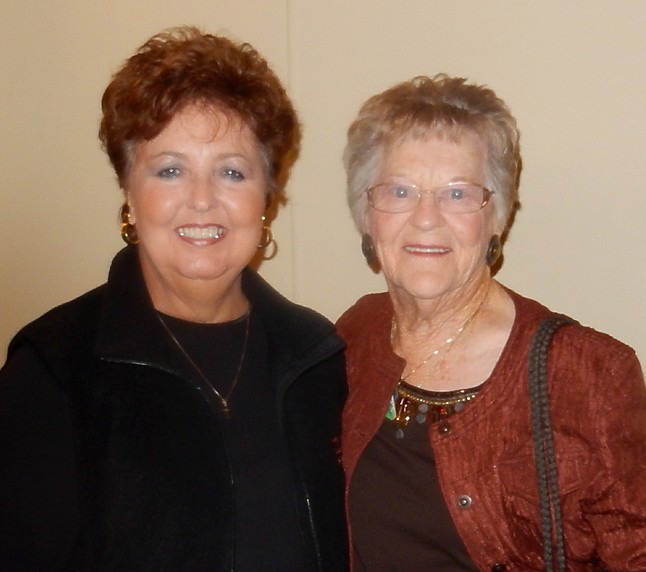 TAC Administrator Nancy Runsey -- Mary Lou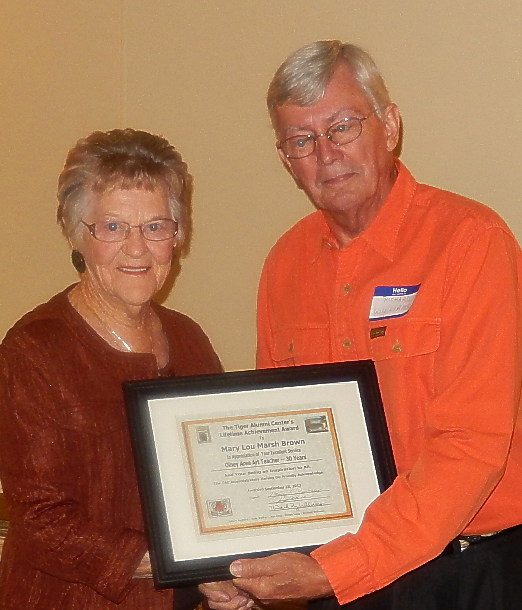 Mary Lou Marsh Brown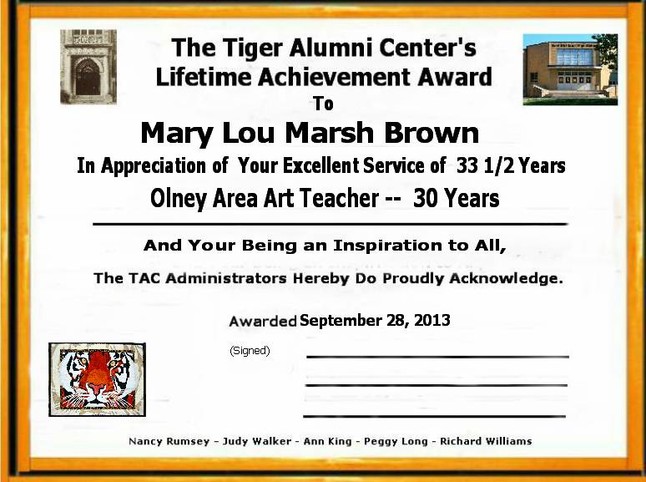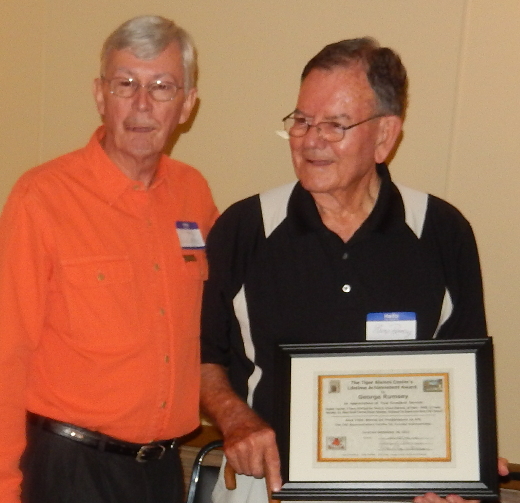 George Rumsey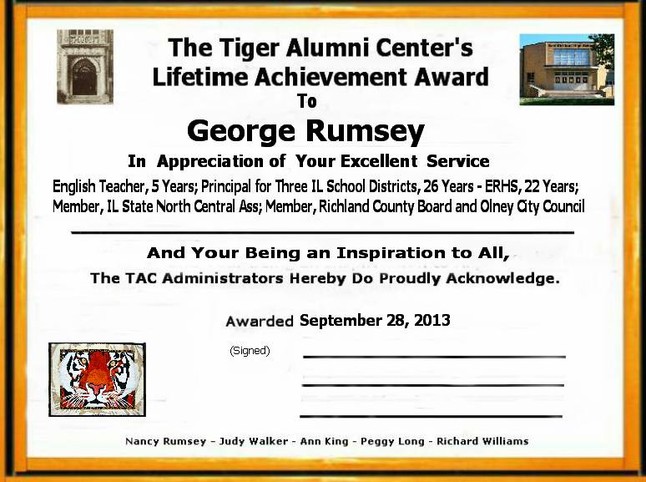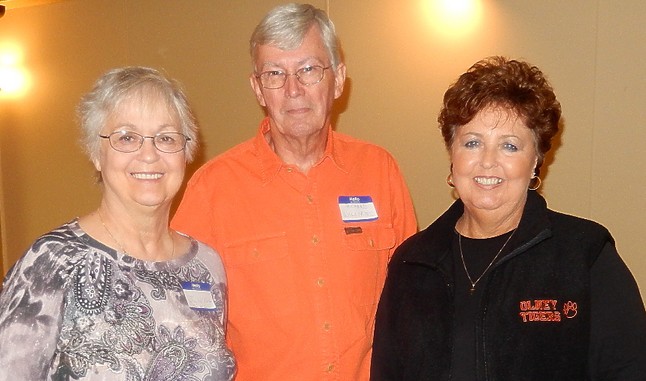 We So Enjoyed This Celebration of Achievements!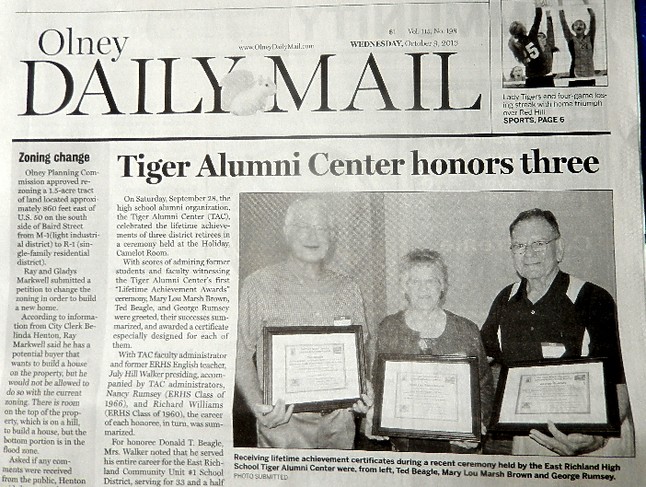 A First! The ODM published our event -- and on Page One!
Olney Daily Mail Article Re the Ceremony
With several scores of admiring former students and faculty witnessing the Tiger Alumni Center's first "Lifetime Achievement Awards" ceremony, Mary Lou Marsh Brown, Ted Beagle, and George Rumsey were greeted, their successes summarized, and awarded a certificate especially designed for each of them.
With TAC faculty administrator and former ERHS English teacher, July Hill Walker presiding, accompanied by TAC administrators, Nancy Rumsey (ERHS Class of 1966), and Richard Williams (ERHS Class of 1960), the career of each honoree, in turn, was summarized.
For honoree, Donald T. Beagle, Mrs. Walker noted that he served his entire career for the East Richland Community Unit #1 School District, serving for 33 ½ years, from 1957 to 1989. During that time he served as a math teacher, followed up as Director IMC, then Assistant Principal, and, finally, as Principal.
Ted Beagle was responsible for the influx of Title monies and the many services those funds brought to the students and parents of East Richland. His financial acumen was a great asset to the East Richland District.
--------------------------

Mary Lou Marsh Brown had graduated from Olney Township High School in 1937. She returned to Olney to teach in 1940, beginning her service in the Olney area as an art teacher for over 30 years. First, from 1940 to 1949, she taught for the Olney Township District.
Next, in 1949, she served as a traveling teacher for the Olney Area School District, teaching art at the various township schools that had been consolidated into the ERCU#1. After a five-year family break, she taught art at the Junior High, retiring in 1987.
After the Olney Central College was established, she taught art for the adult education program for a few years.
Mary Lou Brown was a teacher who had that rare gift of making students feel good about themselves and the art they produced. Her kind and gentle guidance instilled confidence that you could do whatever you tried to do. She commented that she NEVER dreaded going to work. She loved her students and it showed.

----------------------------
Honoree number three, George Rumsey, was an educational leader all his adult life, for over 35 years. He graduated from Harrisburg Township High School, Harrisburg, Illinois. He served and was honorably discharged from U.S. Navy. After graduating from South East Missouri State in 1951, he taught high school English, government and history at Christopher IL High School for five years.
Then he began his career as principal, serving as such for 26 years, first at Christopher IL High School and then at Clay City, Illinois, serving at each for two years.
Then in 1965, he began his 22 years as principal of ERHS, retiring in 1987.
Next he served two terms as a member of the Illinois State Committee for North Central Accreditation of schools and colleges. He established the Illiana Chapter of Phi Delta Kappa at Vincennes University, Vincennes, IN. Next, he turned his public service attention to the government and served as a member of the Richland County Board and the Olney City Council.
George Rumsey, as principal, was a strong leader who guided and supported his faculty. He was a leader who really listened to the faculty and the students. In comparison to other principals and administrators, he was outstanding.

-----------------------------
All three honorees noted in their comments that many others have served the area well. Mrs. Walker noted that in the room were alumni members whose fathers also had distinguished service careers for the district. She noted the presence of Mary Beth Shafer Dietrick, Paul Noerenberg and Mary Noerenberg Cummings. Mrs. Dietrick's father, Mr. Lee Shafer, served the East Richland school district for many years as an agriculture teacher and then as assistant superintendent. Fred H. Noerenberg, a WWII veteran, was the junior-high and grade-school band director in Olney from 1946 to 1977. He organized and directed the Olney Central College String Ensemble for more than 20 years. He served the First United Church of Christ as organist and choir director for 53 years, retiring in 2003, a year before his passing. The alumni guests remembered the service of Gus and Mary Sliva. Mrs. Walker also noted that Marshall Provines gave so much to the community that he, too, would be one to receive the lifetime achievements award were he alive.
------------------------
The Tiger Alumni Center is pleased to honor such distinguished educators who served the citizens living in the East Richland Community school district so well for so long. This was the first year that TAC awarded retirees with outstanding service records. The plan is to make this an annual celebration. Richard Williams, TAC founder, believes that the alumni organization will never run out of retired teachers and administrators with excellent service records to honor. He intends to return with another reception in 2014 to honor more retirees.