TIGER ALUMNI CENTER -- Serving RCCU1 Alumni, Employees & Students
Classes of 1908 - 2018
Quilting By Hand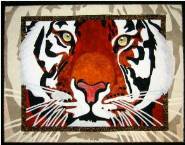 Hello Tigers!
Having a great day? Think you'd like to share that feeling? Or, kinda down right now. Are you?
Well, I was in a blaaa mood too -- not depressed but not joyous. Then I watched the following video. (You'll be leaving TAC and you might want to do a right click and open another window.) Thanks to Jim Keen, Class of 1960, for sending me a link to this video.
https://www.youtube.com/watch_popup?v=7lfaSmDxVZQ
Oh, some of you might even want to visit Diane Rose's website. Click on http://theamazingquilter.com/
Happy Days!
Richard