TIGER ALUMNI CENTER -- Serving RCCU1 Alumni, Employees & Students
Classes of 1908 - 2018
ERHS Now Richland County HS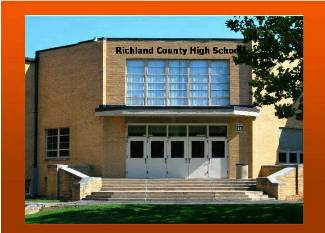 Effective July 1, 2015, the East Richland School District officially had a name change. The district is now called the Richland County Community Unit School District No. 1. This change in name is the final step in the annexation of the former West Richland School District into the East Richland School District. The annexation created a county-wide school district that also extends into the northern part of Wayne County, the southern part of Jasper County, the western part of Lawrence County, and the eastern part of Clay County.

Along with the name change in the school district's name, each building in the school district now has a new name. The high school building is now called Richland County High School (RCHS). However, the school mascot remains the Olney Tigers, with orange and black as the school colors. The middle school, which houses grades 6 - 8, is now called Richland County Middle School (RCMS). This spring, the board of education made the decision to close the elementary building in Noble, which created one elementary school, now called Richland County Elementary School (RCES).

The Richland County School District also has new leadership as long-time educator Larry Bussard assumed the role of superintendent of schools on July 1st. Mr. Bussard, an Olney native and 1975 graduate of East Richland High School, has been with the school district since 1988. In the past 27 years, Mr. Bussard has held many roles, most recently serving the past 11 years as assistant superintendent of schools. Mr. Bussard replaces Mrs. Marilyn Holt, who served as superintendent of schools since 2002. "I am humbled and excited to take on this new challenge. Richland County has always been my home, and I consider it an honor to be able to serve as superintendent of schools," stated Mr. Bussard.