TIGER ALUMNI CENTER -- Serving RCCU1 Alumni, Employees & Students
Classes of 1908 - 2018
Share Your Love Story
Hi! We've All Got One!
Share Your Love Store with Your Classmates!
Hello Tigers,
Over and over again, I hear joyful stores of love and romance, youth, school days, and humor from you, my classmates and schoolmates. I hear stories of lost love and reconnected friendship.
But so often it's in the form of an instant message and then the record is gone. So, share it here! But how? Send it to me at rrw41@earthlink.net. I'll copy it and post it here. I'll just keep adding His stories and Her stories until I have to think of another place to put some of them.
if you want, I'll not publish your name (All emails to me must have your name and I'll confirm it with you.)
---------------- ===== 000 + 000 ===== -----------------
Mr and Mrs. Anderson -- Met on our Tiger Alumni Center and
now are Happily Married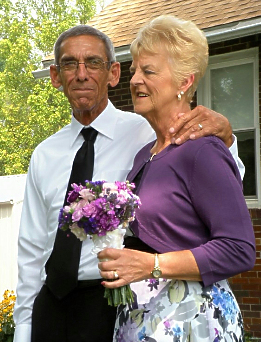 ERHS Alumni Center
Announces the Coming
Marriage of 1964 Graduates
Patricia Sager/Lomas To John Lee Anderson
July 30, 2011
Among my email messages today (July 17th) was a special one announcing the coming marriage of John and Patricia. When I called her to confirm it, Patricia reported, "Yes, we met on the ERHS website."
Their co-written email reported, "After communicating on ERHS alumni website, we fell in love and decided to spend the rest of our lives together. If the classmates would like to contact us on ERHS alumni we would be glad to hear from them."
I asked Patricia if she'd seen John since high school and she said "No. Even in school, while we knew each other, we were never close."
So Tigers message them your best wishes!
All of us who volunteer to make this website available to our classmates are very pleased – and just a little proud. Getting connected, each with school friends and with the past with today!
Our Blessings to you both, John and Patricia! And thanks so much for sharing your joy with us.
---------------- ===== 000 + 000 ===== -----------------
Wes and Marty Weston
Told by Wes, June 25, 2011
In 1956 Pearl and Forrest Johnson moved to Olney with their small daughter Marcia. Marcia was a quiet reserved young lady. Her parents enrolled her into 5th grade classes at the start of the school year in 1956. The teacher was a matronly lady by the name of Fanny Mae Gregory. About half way thru the year she met a young boy named Lee Weston. Lee had the seat next to her in the front row of the class. Unbeknownst to Lee the reason that he was there was because he was a "troublemaker" (sorta) and she wanted to keep an easy eye on him. Marcia was put there because of vision problems and she was a good student. While setting next to each other a young budding romance took place. Giggle, side glances and smiles passed back and forth between the two of them. Finally Lee made a small heart with "LW + MJ" with an arrow thru it. He gave it to her in class one day. That was the start of a romance that endures today.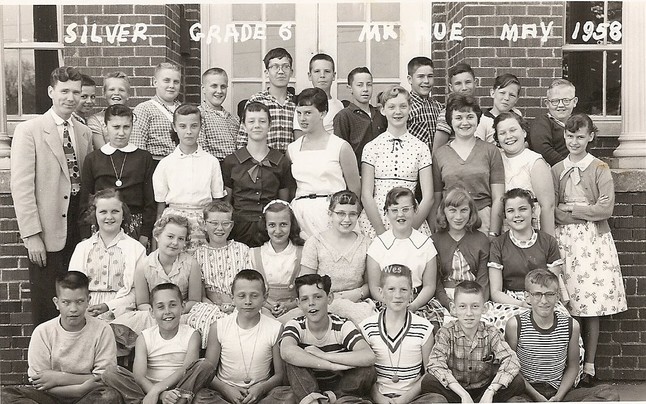 (Marty: Roll #2; 5th girl from left; Wes, Roll #1 5th from left)
They got together on and off for years after that for social events and other occurrences. When Lee wound up in the hospital (1961) for cutting three of his fingers off on his left hand with a table saw, Tommy Weber's father, Dr. Frank Weber, put his hand back together and he remained in the hospital for 7 days with the injury. (PS: he caught heck from his father for messing with the saw, go figure !) While in the hospital, Marcia -- whom Lee had nicknamed "Marty", because he didn't like the name Marcia -- was on duty as a volunteer Candy Striper and attended to him as part of her training. Lee thought that this was wonderful. More destiny.
Finally in 1963 they got back together again as beau's. This time it was serious. They spent much of their time together, dances, week ends, parties and just hanging out together. We took many walks together, no money, in Millers Park, Olney Park, swimming, Vacation Bible School and at ERHS.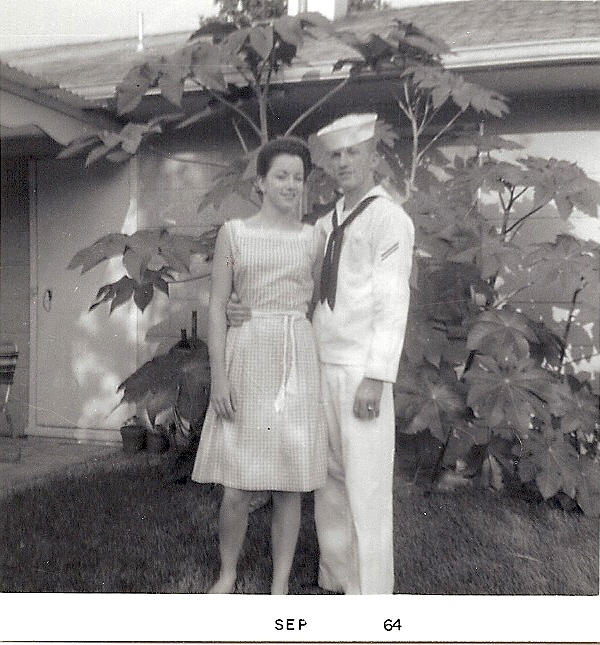 We attended prom together in 1964 in a 1950 Ford 4-dr. What a wonderful evening. Our first full night together. Numerous times her parents took both of us to Belleville to visit relations, and family get togethers. Lee and his family included Marty in numerous of their family outings also.
In 1964 we both graduated. I went into the USN, and Marty headed to Carbondale to attend college. After Wes got back from boot camp, he purposed marriage to Marty, and she accepted. Wes was stationed at Naval Air Station Glynco in Brunswick, Ga. As often as possible he returned to Olney to see family and Marty.
In May of 1965 Wes was transferred to Naval Air Training Command in Millington, TN. While stationed there, only 7 hours hitch hiking from Olney, he made many week-end trips home. Finally in June of 1965 they were married. Marty returned to Carbondale and continued her studies while Wes went back to the Training Command.
In August of 1965, the Viet Nam War was heating up real good and Wes was transferred to the USS Ranger (CVA61) a west coast based air craft carrier.
He was gone for just over a year. On returning the ship went into a short (8 month) overhaul in Bremerton Wa. Wes went back to Illinois, picked up his wife, Marty, and headed out to Washington State.
While there they had all kinds of fun. Riding motorcycles, drag racing, sleeping on the beach, getting flat tires from driving on the beach, dancing in night clubs and making many friends. Of course it had to end as the ship pulled out (in 1967) and headed back to Viet Nam again. This time when Wes came home again in 1968 he was discharged from Navy and unemployed. We pooled our recourses, not that much, and headed back to WA state.
Wes and Marty became parents in April of 1969 with the birth of their son Brian Sean. Money was short and without a quality education always would be short. Wes started college classes and became a stay-at-home Dad while Marty went to work full time. Finally when Wes graduated he went into police work. He finally worked his way into the Detective Bureau and started to work undercover narcotics. Rough job. While working with the police Department a second child was born, Amy Dawn, in 1973. Now it was Marty's turn to be a stay at home Mom and Wes was working full time.
In 1983 police work had lost its appeal with long hours and low pay. With an application to Puget sound Naval Shipyard, in Bremerton, Wa., Wes was hired on as a steel worker which he did for 10 years. With an opportunity to restart classes again and become a Mechanical Test Engineer, paid for by the US Gov't, Wes returned to classes. Within a short time he completed classed and earned his place in Engineering.
With both children in school Marty returned to the work force.
She started work with the Federal Govt in 1982 full time. She continued her education while employed with the Department of Defense and attained the position of Safety Manager for Trident Training Facility at Submarine Base Bangor in Bangor Wa. She remained employed with Department of Defense until she retired in 2005. Wes Remained with Engineering until he retired in 2006.
During the years of marriage, Marty and I have traveled to the South Pacific, Mexico, Hawaii, throughout the southwest as well as numerous trips to California and Oregon. Where our families resided. During one of our trips to Mexico we decided this place might not be too bad to retire to.
When we both got retire in 2006, we sold our home of over 25 years and moved to Mexico where we live full time. In June of this year we celebrated 46 years of marriage and still enjoy walks, dancing, night clubbing (although we don't stay out as late) and traveling in Mexico and the USA.
We are looking forward to attending our 50th (Wow ! Did I just type 50th) Class Reunion.
I know that there are numerous of our classmates that will not be with us, but Angels can watch and enjoy as I know they all will...........
Wes Weston
--- = 000 == --- ==== 000 ==== --- == 000 = ---
My Youth: Chasing Skirts Until Meeting Barbara!



I attended public schools all my life. And, as a grade school boy, I walked to school unattended by parents, as did most kids. But I'd play in the creeks and catch craw fish which I'd offer to my favorite gals. I learned they don't like them.

By the time I was in junior high, I was making about $12 a week delivering "Olney Daily Mails" our town newspaper. I had real money; so I'd go into the rec room of our junior high (the one they tore down on Main Street) with a fistful of nickels and buy the gals Cokes.

As a high school student, I would have been an "A Student" if I'd given my studies as much attention and care as I did chasing skirts. I had money from jobs and I'd spend it on girls. When I worked at a Mike's, I'd feed the jukebox for the girls. And at times, I'd pickup their check. "Hey Big Spender!"

I met Barb in May, 1960, in the last weeks of my senior year.

I was coming back to school after a long lunch one May day before Prom, late, very late. I didn't care: the first class in the afternoon was Mr. Snively's and I'd get an easy "C" and maybe even a "B." Inside, I started up the staircase when, within a few steps, I looked up and saw beautiful female legs flying down, almost upon me. At the last moment I looked up and into her eyes. She was smiling -- as she sped past me/
I took several more steps, slowly; then stopped. I turned around and followed her to the Nurse's Station where she was a student helper, a Candy Striper. And that's how I met my wife, Barbara Ann Olson, then a Sophomore, Class of 1962.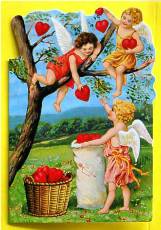 For the next two years Barbara and I enjoyed seeing alot of each other. We dated when we could, she still being a high school student. We were allowed one date a week. But we could go to the Olney library to do our homework. And we did! And we surely did do! As I was commuting daily to Vincennes University in Vincennes, we could see each other often -- even if our meetings were not dates. You know, library visits, our driving her mom around town to shop, my driving Barb and her brothers to school on some mornings, and our going to church together with her parents.

All that changed when we both graduated, she from ERHS and I from VU. We then had to make adjustments, both of us in Terre Haute, Ind., I, as a student at Indiana State, and she, as a student nurse at St. Anthony's Hospital. We loved each other and saw each other for two years -- when we could. No car and with our schools a two-mile winter walk, we still were the light in each other's eyes!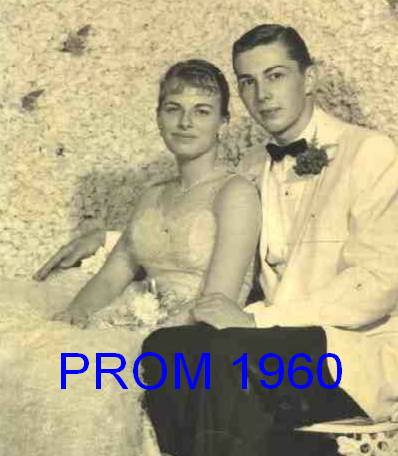 Then, after dating for four years, we married during my first year as a teacher at Rockville H.S., in Rockville, Indiana, over Thanksgiving, 1964. That's my story. Now yours!
True Story. His Story. Richard Williams