TIGER ALUMNI CENTER -- Serving RCCU1 Alumni, Employees & Students
Classes of 1908 - 2018
Scherer Part 3
BEFORE THE BIG YELLOW BUS
Article Three: Inside Richland County's early schools
Following the end of The Civil War, both Olney and Noble were building multi-room schools, and one-room schools began to spring up around the county, primarily a result of state legislation that mandated the placement of schools no more than two miles apart, so students would not have to walk long distances to attend school (remember, there were no such things yet as automobiles and big yellow busses).
Other legislation followed, which included regulations defining compulsory school attendance, minimum age requirements, and length of school terms.
On May 27, 1885, the Olney Times wrote: "The School Board has determined to begin at the coming of the school term, the strict enforcement of the compulsory school law, and every offender will be dealt with to the fullest extent of the law. Such action would be commendable in the eyes of all good citizens who are utterly tired of the gangs of worthless boys who litter on our streets during all seasons of the year, blockading sidewalks and obstructing the passage of pedestrians."
The first true public school in Olney, a three-story brick building, was built in 1867 at a cost of $30,000 and was considered one of the finest school buildings in southern Illinois. By 1870, Noble had built a two-story school building. Both of these buildings – in Olney and Noble – would later house the first two-year high schools in the county. At the same time, one-room schools continued to proliferate in the rural areas of the county.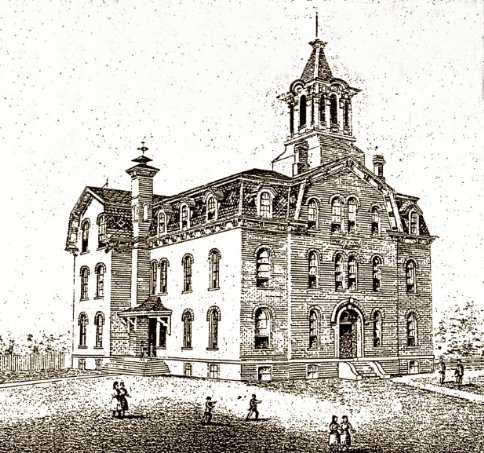 1. Central Drawing 1866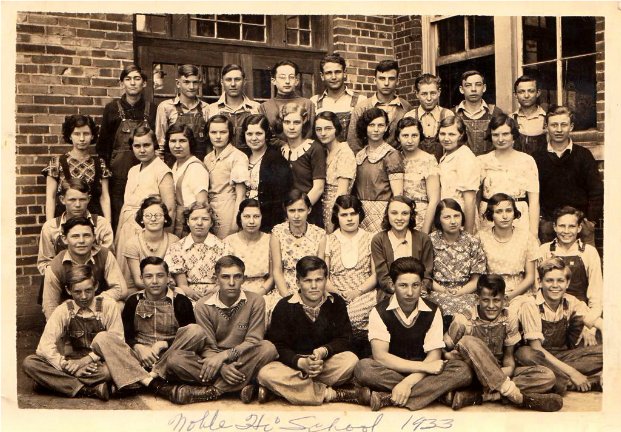 2. Noble High School 1933

In 1914, the three-story showcase school in Olney, which opened with such fanfare in 1867, was found unsafe and a new building – housing the former Central School that many older citizens likely remember – was erected on the site in 1915.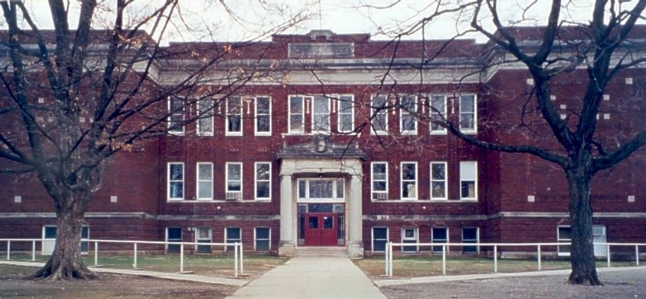 3. Central Building, 1915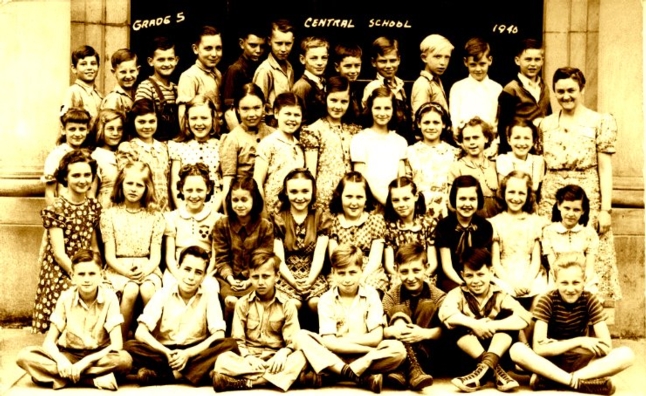 4. Central 5th Grade, 1940

Following the condemnation and demolition of Olney's first public school building, which had also served as the site of the high school since 1871, the Olney Township High School was created and a new building was constructed in 1915 in the 800 block of East Main Street. Students from Ingraham, Dundas, Claremont and other towns came to O.T.H.S. and then went back to their homes on weekends. Students from Calhoun and Parkersburg came to Olney every morning on the 8:45 train and went home every evening on the 4:25. This building on East Main would serve as the Olney Township High School until consolidation and the new East Richland High School was opened in 1951.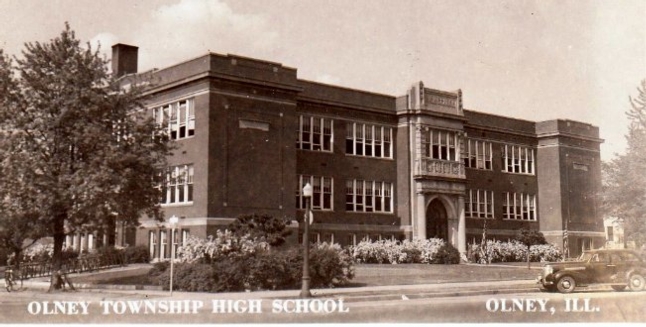 5. OTHS - 1940
A three-year high school had been started in Noble in 1923, utilizing a rented upstairs room in the 1870 Noble Grade School. It remained a three-year high school until 1932, when the community voted to support a four-year high school. In 1938, construction began on a high school building in the northeast part of Noble along Route 250.
By the 1920s, some 87 one-room rural schools were operating in the county. The buildings in four communities – Calhoun, Claremont, Dundas and Parkersburg – were multi-room schools that housed both elementary students and two-year high school programs, and parochial schools were located in Olney and Stringtown. Richland County was indeed becoming "rich" in education facilities!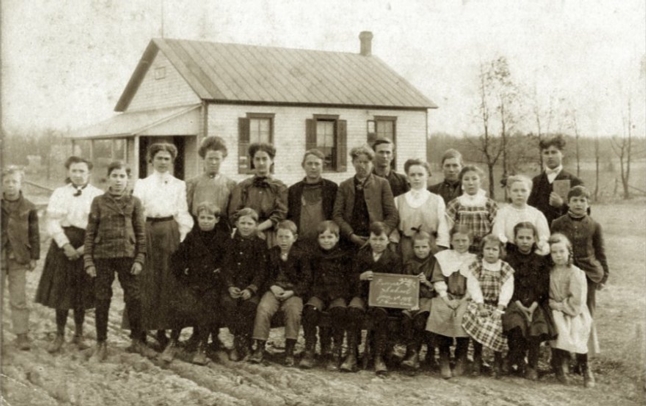 6. Denver School and Pupils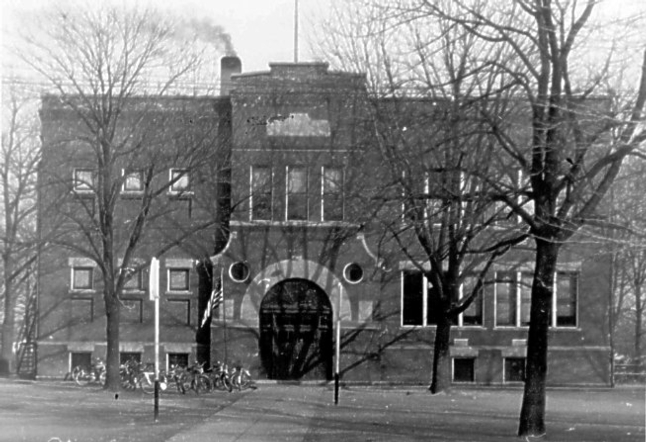 7. Cherry Building, 1940-50s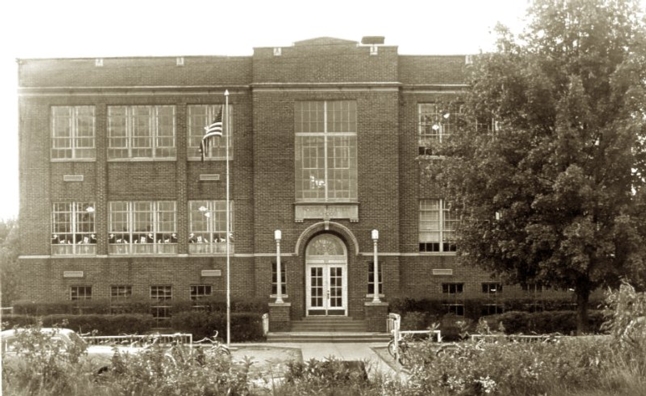 8. Silver School, 1940-50s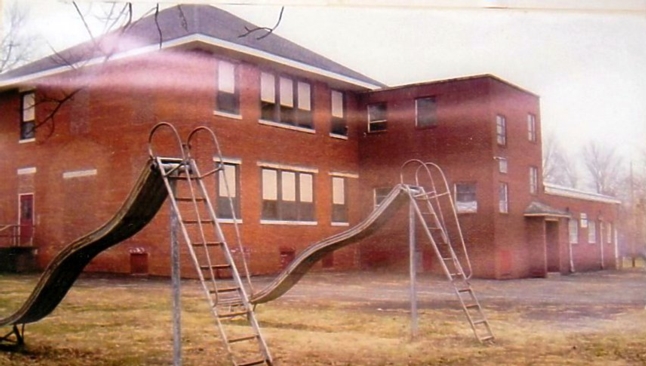 9. Calhoun Building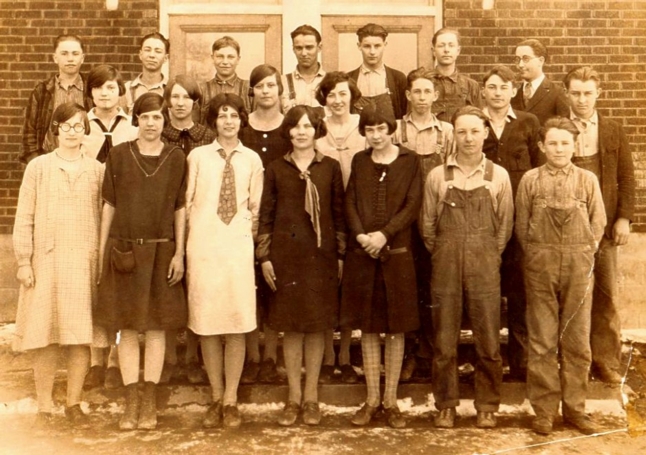 10. Claremont High School 1927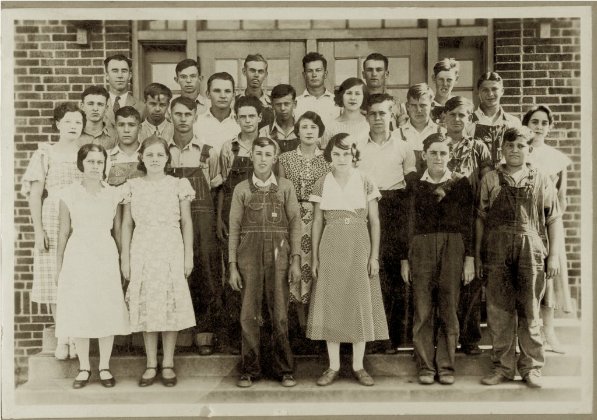 11. Parkersburg High School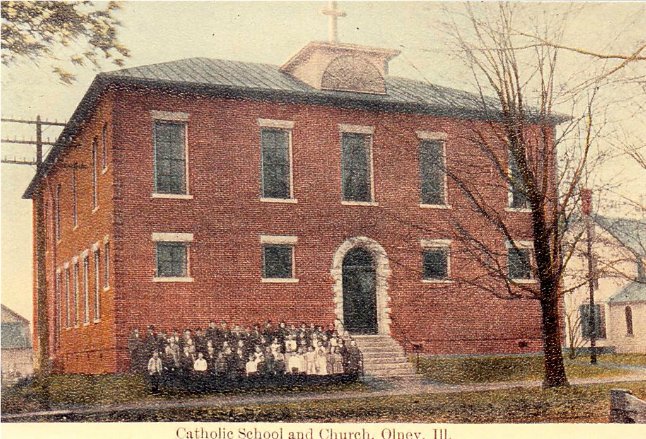 12. St Joseph

Oh No, Not the Hickory Stick!
Olney Times, February 25, 1859: "Two boys attending one of our schools got into a fight a day or so ago, when one of them drew a sling-shot and very scientifically used it about the other's head, knocking him senseless, in which condition he remained for some time. It's high time that Young America should be taken care of, since they are weighted down with such warfare."
We often think discipline problems exist only in today's schools, that the early schools were full of well-behaved, sugar and honey children. But there was a reason for the fabled hickory switch!
According to Loren Pixley, PhD, local historian, educator, and former Dean of Olney Central College and attendee of a one-room school in Wabash County, "In those days, discipline in the home contained elements of corporal punishment such as whipping with razor straps, paddles and switches, thumping with thimbles and sometimes kickings and beatings.
"Children worked hard like their parents and were an economic asset to their parents. Children, like chattel slaves, were more or less expected to obey the wishes and commands of adults without question or procrastination. Children were often considered as little animals upon which the parents, school and church should engrave the rules of right conduct. They were clay to be molded and – we are unable to resist pun – some were more moldy than others!
"In short," wrote Pixley, "the discipline practices of the one-room country school were often reflections of the discipline practices of the home and the community. Corporal punishment and ridicule were not only accepted, they were expected. Public hangings and floggings were designed not to improve the character of the hangee or the flogee, but of the audience. Similarly, whippings and other forms of punishment were to be conducted in front of the whole school, not only for the moral and intellectual improvements of the one being punished but for the lesson to be learned by the whole student body."
Olney Times, February 11, 1885: "We are informed that the Oak Ridge School is running smoothly since the teacher, who seems determined to keep things straight, has thoroughly flogged ten of the 'big boys.' Some of these same boys can boast that they nor any of their big brothers ever took a 'licking' from a teacher. We think that a little more 'hickory oil' and a little less expelling pupils would help most of our schools."
By now, most readers should be able to understand why men were often preferred as teachers in the early schools, especially since they were usually the only adult present in a room that could have 10 to more than 40 or 50 pupils, ranging in age from five to 20 years old.
It was no doubt this kind of situation that prompted the following notice from Bonpas to be placed in the February 8, 1888, issue of the Olney Times: "Wanted, by the directors of the school district No. 3, a teacher who must be a pugilist of not less than three years training and he must also be a stayer and a stranger to fear. Money is no object if they get a man to fill the bill, no tenderfoot need apply."
In recent years, we've all been led to believe that, in the early days, parents always supported the discipline of their children by their teachers. While we believe that to be generally true, while researching and writing the book, "Before the Big Yellow Bus," we did come across at least two exceptions, where the parents took issue with the teacher. One of those exceptions is expressed in the following letter to the childrens' teacher:
Olney Times, March 6, 1872: "Mr. (teacher), if you please, don't whip nary one of my children to leave marks on them anymore. If you please, you have whipped them three or four times and I want this to be the last time. If it is not, I will attend to you myself. I want them to mind and learn, but they have got a little feeling as well as you. They are not oxen, horses nor dogs, and if you ever leave another mark on either of them, I will broom-stick you, you dirty hound."
Teachers did sometimes receive a little help from Mother Nature in maintaining discipline. As Dr. Pixley said, "indoor plumbing and adequate heating and lighting were just as rare in the houses as they were in the schools. When the wind was strong and the temperature was 20 below zero, no teacher had to put time limits on a winter trip to what was called the 'outhouse.'"
A Little Etiquette is Suggested
(Richland County) Annual Report for 1874, Article 10: "No pupil will be allowed to use chewing gum or tobacco in any form, nor obscene or profane language, nor engage in any quarrel or boisterous conduct either on the school premises or on the way to or from school."
Students in the one-room schools could range in age from five to 20. And before the advent of the high school, it was common for some students to repeat the eighth grade three or four times, just because they enjoyed school. On the other hand, many students dropped out after the sixth grade.
According to Dr. Pixley, the educator and historian, "The socio-economic status of the students varied at least as widely as their age. Patched overalls and flour-sack dresses were very acceptable attire. The better-off students usually wore newer clothes and some store-bought ones, but style of dress was not as big an issue as it is now. A person was much more likely to be judged on how he or she behaved, rather than on how they dressed."
Considering the wide range in ages and the varying socio-economic status of the pupils, it was no wonder that bad behavior and habits such as chewing and smoking could often be a problem. Developing and maintaining good etiquette was not only the responsibility of the student, but also fell upon the teacher, especially for students in those homes where such niceties were not all that important.
"Early Schools in Olney," written by Levi Tennyson, noted Olney historian, contained a communique that was written by an anonymous Parkersburg resident in March 1872. Titled, "Etiquette in the School Room," the communique declared the following:
"It is too often the case that the young regard the school room with a feeling little short of actual horror, and when he considers the ills and discomforts to which he is, in many instances, subjected every day during the best periods of his life, we have on occasion to wonder greatly at the repugnance manifested. When parents display more care and vigilance in providing for the comfort and well-being of their hogs and horses than they do for that of their own children at school, humanity would fair hide their face in the dust and cry for shame. And yet in more instances than one we can assert, from personal observation, that such would appear the case in this fair state of ours.
"It is to those who have moderately advanced in civilization that our remarks are made applicable, who have some idea of school comfort and decency; to those who boast a school house sufficiently tight to hold the children from falling through the cracks, where the stove doesn't smoke, the doors swing on one hinge, and the big boys do not inundate the floor with tobacco spittle. Where this degree of refinement has been attained, they are perhaps ready to advance s step farther."
The communique goes on to explain a course of action: "First, then, a requirement of every teacher should strictly enforce perfect cleanliness in the appearance of his pupils. Cold water is cheap, and soap abundant, and the pupil is inexcusable who appears at school with soiled person or apparel; if he does so appear, it is the duty of the teacher to promptly remedy the evil, and so effectually as to warrant the non-recurrence of it. It is an insult to a respectable assembly for a dirty person to introduce himself into it as one of its numbers. All respectable children should feel themselves insulted and compel the offender to reform or drive him from their society. Poverty and rags (clean ones) should be respected but filth is intolerable.
"I have alluded to chewing tobacco in the school room, and it is a lamentable fact that many efficient teachers in other respects, not only sanction this abomination in others, but practice it themselves during school hours. All teachers worthy of their calling should unite in putting down this disgusting practice. And where the vice has become deeply rooted, common decency, at least, would suggest spittoons. Why not provide themselves with Havanas, and take a smoke at regular intervals.
"Those not able to buy a whole cigar might collect the pieces, dry them, and smoke them in a pipe. But after all, the teacher can do little toward improving the habits of his pupils unless he has the cooperation of their parents."
Pupils and teachers, alike, were expected to adhere to certain rules of conduct.
Olney Times, May 17, 1876: "A sensible rule has been adopted by a school board down in White County. It reads: Applications from female teachers who part their hair on one side or from male teachers who divide their hair in the middle will not be entertained by this board."
Although women were fine teachers, most communities placed harsh restrictions on their personal behavior – including being forbidden to marry during the term of their contract, not allowed to keep company with men, no loitering downtown in ice cream stores, no riding in a carriage or automobile with any man unless he is their father or brother, must wear at least two petticoats, dresses must not lie any shorter than two inches above the ankle, and no smoking cigarettes.
Then, on top of what teachers (men and women) could not do, were often certain dictates on what they must do: "To keep the schoolroom neat and clean, you must sweep the floor at least once daily; scrub the floor at least once a week with hot, soapy water; clean the blackboards at least once a day; and start the fire at 7 a.m. so the room will be warm by 8 a.m."
For those who remember the cigarette commercials that were directed to women in the late 1900s, the theme of the ads might come to mind: "You've come a long way, baby"!
The Games We Played
A typical school day in a southern Illinois one-room school started about 8:30 a.m., had a 30-minute recess at 10:00 a.m. a lunch hour from noon to 1:00 p.m. and another recess around the middle of the afternoon.
According to Pixley, the educator, "Kids ranging in age from five to 16 (or older) aren't going to sit nicely with folded hands for that period of time, so rather active games were invented to burn off some of the excess energy. (Our) playground wasn't big enough for softball or baseball and, even if it had been, there wasn't enough money to afford a ball and bat, let alone gloves. Basketball was out of the question, mainly because the school was too small and, besides, wind, rain and snow do play havoc with an outdoor court, to say nothing of what the elements do to players." (Although during this time, the four rural high schools did have basketball teams that played each other on their clay courts. Olney and also had teams that played basketball inside.)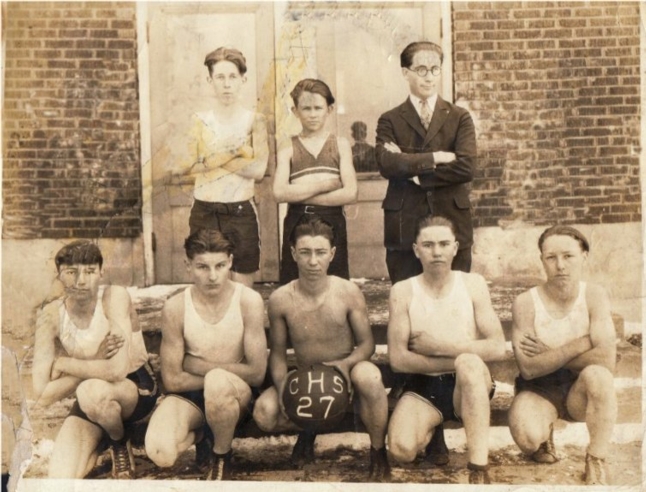 13. Claremont HS Basketbal, 1927

"In order to be successful, the games we played had to be such that everyone from the smallest first-grader to the largest eighth-grader could participate and have some expectation of some success. We learned early that if there was little chance for most of the student to play, the game soon disappeared. We didn't require 'winning,' we just insisted that we had a chance to win.
"One game that met these standards was Red Rover, which had enough body contact and potential for bodily injury to satisfy even the most sadistic football coach. Red Rover was our favorite until two or three major injuries – such as concussions or broken arms – removed some of the glow from participation.
"Other games, such as 'squirrel,' 'soak-em' or even 'sling the picket' were not so violent, but they did help develop stealth and deceit – two characteristics much in demand by modern politicians. 'Sling the picket,' was a variation of hide-and-seek, which we could play only when we had a teacher who let us cross the road to hide in the fencerow or briar patch. After the first month the playground was so bare that even an ant would have found it difficult to hide.
"We also had seasonal games such as 'fox and geese' and snowball fights in the snow and mudball fights in the spring, but the big three in sports were 'sling the picket,' 'squirrel' and 'soak-em.'"
14. Pupils pay Ring-Around-the-Rosie during recess at Blue Jeans School.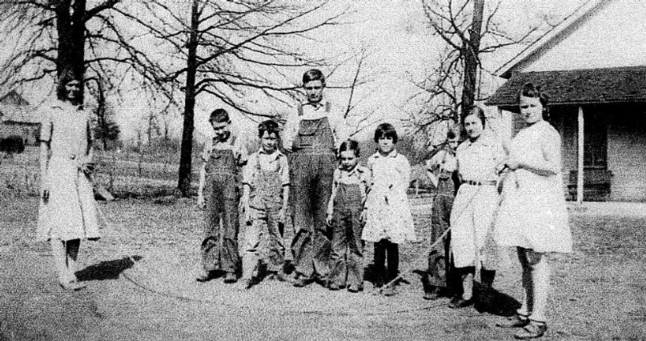 15. Pupils pause from jumping rope at Prairieton School.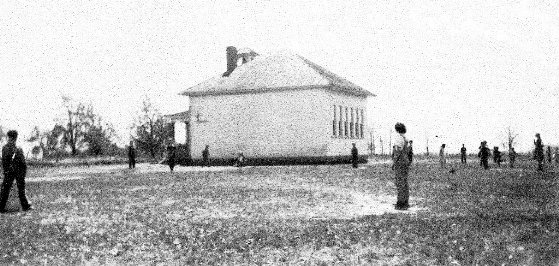 16. Pupils playing during recess at Blanchard School
It was a Time for Building Traditions
William Bower, who was the second child born in the City of Olney, wrote of this expeience at one of the early schools, apparently before the Civil War:
"It was the custom in those days for the pupils to come early on the last day and take possession of the schoolhouse, and refuse admission to the teacher until he had provided refreshments. On this occasion, Prof. Smalley, the teacher at this term, promised that he would furnish the refreshments the next day, provided the pupils were on their good behavior.
"Accordingly, the next day Prof. Smalley made his appearance with a couple of baskets filled with apples, ginger bread, maple sugar, brown sugar and a jug of whiskey. The water bucket was filled with a mixture of water, brown sugar and whiskey, and all – big and little – were invited to take the gourd used as a drinking cup, and help themselves. My recollection is that none took enough to show unfavorable effect. It seems impossible," he wrote in 1896, "that so short a time back, such a thing would be possible."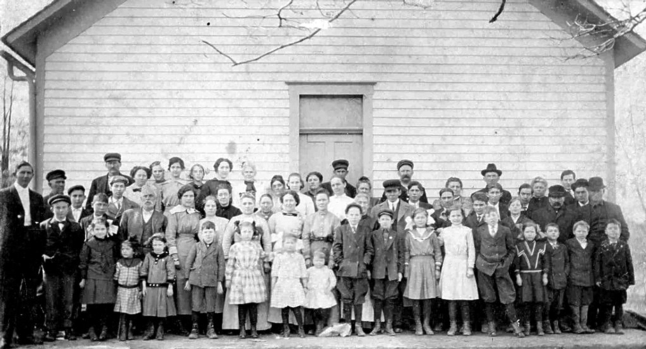 17. Brush College School
Teachers of the era were also known to award their students in other ways. One of the oldest traditions in the county – which truly pleased thousands of students up through much of 20th century – originated in 1872, when a thoughtful teacher of Oak Dale School took her pupils on a picnic. She likely had no idea of the cherished tradition she was starting at the time, but from this simple event bloomed the annual May Day parade for school children in Richland County.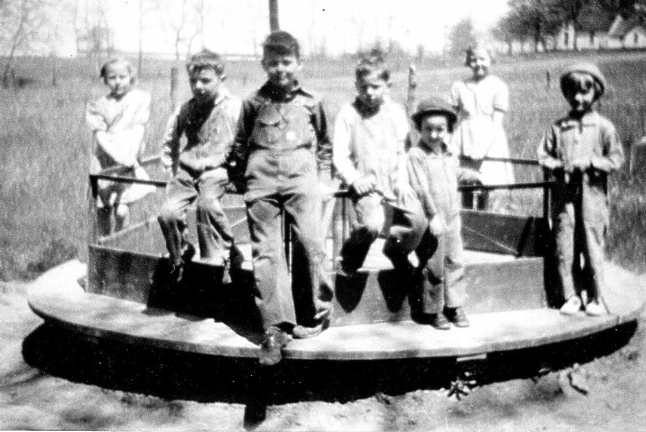 18. Oak Dale School students enjoy their picnic visit
to the Olney City Park.
Olney Times, May 18, 1881: "On Friday afternoon last, the children of the public school had their May Day, marching in procession some 700 strong through the streets to the Driving Park grounds, where they enjoyed themselves in various way. The sight was a beautiful one, and elicited the admiration of all who witnessed it."

Get Ready, Kids – the Big Yellow Bus is Coming
By 1942, with more than 12,000 districts, Illinois had more public school districts than any other state. More than 10,000 one-room schools had an average enrollment of 12 students. Yet, the population of rural students in Illinois had dropped to just one-third of the number in 1900, emphasizing the dramatic shift of rural families from the farm to cities and towns.
The writing was on the wall. It was not a matter of if, but when and how the one-room schools of Richland county – and for that matter, the entire State of Illinois – would be closed and their former districts consolidated into larger, more efficient systems serving more students in each.
In Part IV, the final part in our series, we will examine the consolidation of schools, look back on several of the noted teachers, and tell of some of the pupils who learned their lessons well and made great contributions to society. We will pay tribute to the end of an era that was cherished by so many.
* * * * * * *
Editor's note: This article is based on excerpts from the book, "Before the Big Yellow Bus: remembering the one-room schools of Richland County, Illinois." In addition to covering the history of 87 one-room schools that once existed in the county, the book also includes the history of the schools in Noble and Olney (Central, Silver, Cherry, OTHS) plus the two parochial schools in Olney and Stringtown. The 300-page, large format book contains 270 historic photographs and hundreds of names and comments from area families that date back to the 1800s. The book, a veritable encyclopedia on the history of Richland County schools, has been accepted by the Abraham Lincoln Presidential Library and Museum and is available on Amazon and the book's website: https://beforetheyellowbus.wordpress.com/.
You may contact the authors: Ron Scherer at rscherer@htc.net; or Yvonne Scherer Meckfessel at pagewriter405@yahoo.com.