TIGER ALUMNI CENTER -- ERHS/RCHS

Grandfather Williams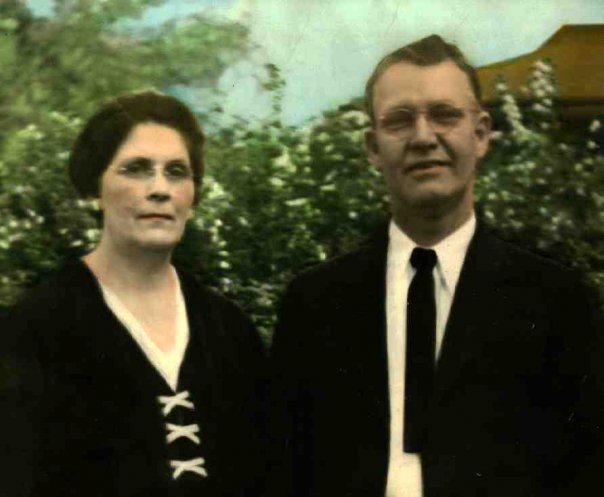 Sciota (Moseley) and Alva Logan Williams, my grandparents.
Original picture was a black and white one taken in the 1920s. Later, perhaps in the 1950's, an artist hand-colored it.
I never knew my Grandfather Farris, my mother's father as he was killed in WW II. So my father's parents, My Grandparents Williams, served double duty. Looking back on my Grandfather Williams' life, I am pleased that he was so good to so so many. He was a loving family man, an educational leader and a religious leader.
I enjoyed my fifteen years with my grandfather who loved to play checkers with me. For most of my youth, I lived within blocks and could visit daily. I remember he started giving me a silver dollar for each of my birthdays. I still have one of them. My father always said that his father was very stern. But he was always kind to me. (But isn't that the way with grandparents?)
My Grandfather Williams was the oldest son with two younger brothers when their mother died. When their father re-married, the second wife didn't want the boys in her home. As a result they were "farmed out" to farmers in the area as live-in workers. After a while my Grandfather learned that his brothers were not being treated as well as their contracts specified. Grandfather gathered them to him and cared for them until they were of age.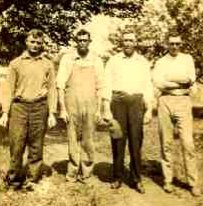 When he was free, he came to Olney, Illinois, as a farm boy with no employable skills. He became a boarder in the home of a family whose father was a railroad telegrapher. In exchange for his labor, including painting the owner's home, the owner taught his boarder the Morris Code used by railroad men and thus made it possible for Grandfather to start his lifetime career as a "Railroad Man."
For many years, both before he married and afterwards, to make extra money, Grandfather painted houses when not at work at the Baltimore and Ohio Railroad tower in Olney. Soon he had enough extra money to start buying old houses. In time, he owned over a dozen houses that he had repaired and was renting. I have two memores of those days. I remember attending a Sunday Service that Grandfather conducted in one of them. I also barely remember being in one that my father was painting for Grandfather. In time, Grandfather was the largest stock holder of an Olney bank.
My Grandparent Williams, in time, had two sons and two daughters. My Uncle John, the oldest, is mostly a mystery to me. He left Olney one day, never to be heard of again. I knew the girls as my loving aunts, Eva and Rowena, Eva became a nurse and Rowena, a teacher. Both had families and gave me cousins who are still very dear to me.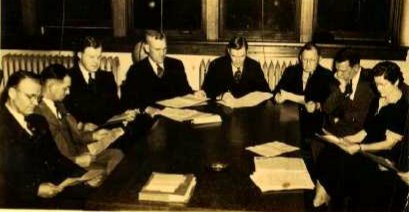 Board Members of Olney Township School (Far Left: Grandfather)
Some time in the late thirties and for twenty-some years Grandfather served as a school board member. I have one memory of him coming to my classroom after school when I was in the fourth grade. I stayed after school trying to write with my right hand; I'm a "lefty." Grandfather came in, talked to the teacher, and the three of us went to the chalkboard. He amazed us by writing on the board using both his right and left hands. He invited the teacher to do the same. What I remember is his offering her the chalk to her left hand. She said she couldn't.
I don't remember what happened next. I do know that after that afternoon, she taught me how to write with my left hand. I don't remember that day as one of drama where an important person, a Board Member, 'corrected' a Teacher. My memory is simply that of a kid with a caring grandfather. In high school, I got several reminders of my being the grandson of a board member from a couple of my teachers. I assume that as professionals and also as employees they knew we young Williamses as grandchildren. I remember one of my h.s. teachers commenting fondly that Grandfather hired him during the depression. Over and over, the attitude was one of honoring the service of a good man.
I also grew up with my Grandfather serving as the first minister to the Elm Street Christian Church. I have no memory of being treated any differently than any other child attending the church. I guess I was so use to seeing Grandfather Williams as a leader that his service just seemed normal. I am sure my attitude then was such that he could have showed up in the hospital to provide care for me when I was there. In my young eyes, he could do anything.
I vividly remember his funeral. The hugh hall was packed; many stood in the back of the room and up a staircase. Years later, I'd paged the guest book. I saw the names of many people from many walks of life.
Now when I think of him, I see him as an example of the good people who built this country -- always looking for ways to improve. The culture was one of service, of 'paying it forward.'
Grandmother Williams was very old and very quiet as I remember her. She never had a television; she did listen to the Olney radio station. During warm weather, I can see her on her porch with her Bible in her lap listening to school children playing across the street, from the Central School which was a grade school at that time. I always think of her when I am near a playground with screaming children. During cold weather she'd sit inside where she could see the many redbirds that lived in her evergreens.
She lived many years after my grandfather and died in bed gently in front of some of us. I had come home from college to say goodbye. I remember thinking she had lived in a circle of love.
During my youth, when both Grandmother and Grandfather were 'youthful', my cousins and their parents would gather in what I called "My Grandparent House." I loved those gatherings when my grandparent's home was the center of love - of playing kids and laughing parents. I remember that time as one of joy, of love.