TIGER ALUMNI CENTER -- ERHS/RCHS

Class of 1956 Reunion
65th Class Reunion of the Class of 1956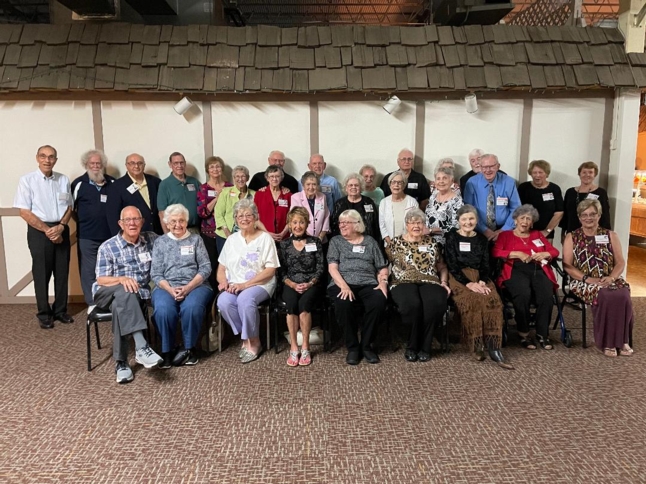 Class of 1956 held their 65th Reunion on September 17 & 18, 2021 at The Holiday in Olney. The following picture is the class members in attendance:
Front row: Joe Wilkerson, Opal Myers Wilkerson, Marjorie Lathrop Gardner, Barbara Anderson Faggetti, Marie Gill LaBudde, Sue Wynn Ritter, Christine Weber Tucker, Pat Barnes VanMatre, Mary Ann Bowen Langston.
Middle Row: Harvetta Lawless Gerth, Ruth Sheridan Gibbs, Darlene Henry Fritschle, Carolyn Phillips Anderson, Lynn Fessel Barber, Carolyn Shedelbower Sharp, Loy Bowen, Mary Jane Elie Zwilling, Pauline Hermès Jordon.
Back Row: Garai Doll, Lawrence Bunting, Ron Nowak, Jim Totten, Mitzi Hinkle Bryant, Ron Gibbs, George Fritschle, Florence Kocher Schmidt, Dick Lathrop, Mildred Dean Brakmeier, Ted Crackel.
------------------------------------
When: Friday and Saturday, September 17 & 18, 2021
Where: The Holiday, Olney, Camelot Room,
Friday: a meet and greet on September 17 Friday just meet
and greet at 6 PM at the holiday same room as we have on Saturday night for the reunion.
Saturday, 6 p.m. Sharp -- Everyrone responsible for their own meal and tip.
Questions: Contact Beverly Decker Beauchemin at 386-938-4904 or email beverlybeauchemin.com