TIGER ALUMNI CENTER -- Serving RCCU1 Alumni, Employees & Students
Classes of 1908 - 2016
In Memory
David Furr - Class Of 1977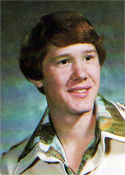 David Lee Furr, 18 and Byron D. Furr, 16, brothers and both of Olney were killed in a highway collision northeast of Newton on December 27, 1977. Authorities said the car in which the youths were riding was southbound on Illinois 130 about two miles north of Newton when it was involved in a right angle collision with a pickup truck driven by Leroy Wakefield, 55, Newton.
The accident occurred while the brothers were returning to Olney after attending the Charleston Holiday basketball tournament where Olney had defeated Pana. Both of the victims were thrown from the car and were pronounced dead at the scene.
David Furr was born October 18, 1959 in Indianapolis, Ind. He was the son of Dr. Jack D. Furr and Elizabeth Ann Knox. He was a freshman at the University of Evansville and was pledged to Sigma Phi Epsilon Fraternity. He was a member of the Methodist Temple at Evansville, Ind. and was a resident of Hughes Hall at the university.
David was a basketball standout at Harrison High School in Evansville for three years and one of the city's leading scorers. He played his senior year at East Richland High School where he was an All-North Egypt Conference first team selection after helping the Tigers win the conference championship one year ago, and also the championship of the Benton Invitational Tournament and runner-up finish in the IHSA Class AA Sectional. He was an All-Southern Illinois selection and also played on the Tigers baseball team. David was a member of the National Honor Society.
Surviving David and Byron are stepfather and mother, Dr. and Mrs. Lawrence J. Knox of Olney; stepsister, Mrs. Mary Ann Swisher of Cambria, Ill.; stepbrothers, Bob Knox of South Bend, Steve and Tim Knox, both of Carbondale and Alex Knox of Olney; grandmother, Mrs. Mary Keneipp of Owensville, Ind. and stepgreat-grandmother, Mrs. Rhoda Fitzsimmons of Evansville.
Services at Owensville United Methodist Church in Owensville, with burial in Bethel Cemetery.
Published in Olney Daily Mail (IL)