TIGER ALUMNI CENTER -- Serving RCCU1 Alumni, Employees & Students
Classes of 1908 - 2018
Class of 1973
Class of 1973
To All Members of the Class of 1973
(See list of missing classmates below)
The following message is from Bonita Brewer Fehrebacher (But sent by Richard Williams of TAC).
Save the date of September 29th, 2018.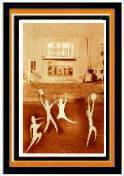 Key notes related to your coming Class Reunion.
1. Your reunion will be on Sept. 29, 2018.
2. Future reunion information will be announced on TAC.
3. We will be mailing information with sign-up sheets later.
4. Please send your U.S. Post and email addresses with Bonita.
5. Please contact Bonita now.
Please contact Bonita at bffeh@frontier.com or U.S. mail her at 5443 N Lakewood Rd, Olney , IL 62450 as to whether you are able to attend your reunion. Of course, we hope to enjoy being with you! But, if you are sure that you can't come, let us know as we need to know that too. You are being a big help by giving us this early notice.
Why not contact her now?
Thanks!
Richard Williams for Bonita
P.S.: Please forward this information to other classmates.
Need Addresses for the following Classmates
Tim Arganbright
Jim Berry -
Carol J. Cantrell (Ledeker)
Mark Carter -
Marsha Cochran (Patterson)
Janet Craig (Watkins)
Linda Davidson (Hall)
Dan Ginder
Wayne Hunt
Paul LaFever
Mary Ellen LeRiger (Watkins) -
Kathy Milan
Ron Murray
Pam Stout (Lynn)
Dan Weygandt
Barb Randall (Lee)