TIGER ALUMNI CENTER -- Serving RCCU1 Alumni, Employees & Students
Classes of 1908 - 2018
Reunion Planning :)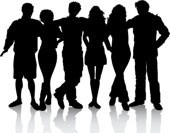 Reunion Ideas
Preface: Since too few (the committee) have too much to do before a reunion, plan wisely to share the load -- and not just with the committee. Allow volunteers to help. Whenever your committee is in session and you all -- most of you anyway -- agree to some idea, think! Can some volunteers do this for us? I bet so, at least some of the time.

1. When you and your reunion committee compose your registration letter, include a request, re: "Bucket List" that the classmate include five things he/she would like to do/achieve before kicking the bucket. Then as the registrations come in, copy each list on two cards one with the person's name and one without. Then during the reunion, use the cards in an ice-breaker. You know, give the cards out at random. Have people find the person. Now a twist would be to use teams, maybe three to five people, to find and identify the classmates in the team's combined lists. Maybe the committee could have found a way to have a few neat prizes for the winners who found the most people in the allowed time. Of course, the mc will want to share with the classmates at least some of the bucket lists.
2. Oh, here's an idea I got reading about reunions at another site. It's using your school's own talent, in that case it was the current school band. During the dinner, the reunion classmates were treated to 30 minutes of live music from the band. The cost, a rather low donation to the band's support club.
That got me thinking. Each year the school produces choirs, bands, and other talent. A committee could ask the Principal for info related to some of the best singers and bands the school has had in recent years. Then take that contact list to a committee meeting, learn what talent is available, and brainstorm whom to interview.
Now I know from experience that the classmates like both some entertainment and ample time to socialize. So we don't need much 'outside' entertainment. We are our own.
3. That reminds me, local talent, I mean. If time, have the reunion committee put on a skit. Years ago, mid90's I think, Barb's class of 62 enjoyed a show put on by the reunion committee. They put on the skit, "If I were . . " It basically uses the idea of a bold contrast, as in a librarian suggesting if she were something else, she'd be a stripper. Each committee member acted out some reversal in jobs. I still smile when I remember Gary Street's role. I don't think I'll ever forget it. Hey, Class of 62, how about a reprise?
4. A spin-off: invite your classmates to put on an amateur show. Requires much planning and a long head-start, but I bet you've got talent and jokers who'd have a ball entertaining their classmates.
5. Invited Guest Speakers. At the Class of 60's 50th, Coach Jack Frost delighted us with comments for a few minutes. He's been to most of our reunions, but this was the first time he gave a presentation.
I'm smiling as I just thought of a variation of a speaker. Have a 'fry' and roast a classmate or two.
6. I thought of another idea using local talent. Get some classmates to reprise parts from their class/senior plays. I saw this happen informally at one of my teaching school's reunion. My past student who was the "Stage Manager" a major part in the play, "Our Town," began reciting her lines. Another alumni stood up -- got into character -- and began to answer her. Then, with some pleading, those two got several others to join them. It was all spontaneous. But what if they had notice, months in advance?
7. How about slideshows and movies? So many people are amateur producers anymore with their cameras and camcorders. I did a type of "Now & Then" for my Class of 1960 during our reunion, September, 2010. See slides below. These were posted on my facebook pages and sent by email to classmates. The purpose of these 'windows' slides was promotional: I began months in advance posting a new slide weekly. Committee members believe it helped our attendance. These slides were similar but not the same as the PowerPoint program that I presented on Saturday night.
Best Wishes, Richard