TIGER ALUMNI CENTER -- Serving RCCU1 Alumni, Employees & Students
Classes of 1908 - 2018
Lisa Hough Hemrich
Lisa Hough Hemrich
President TPAA, 2016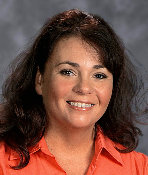 Lisa Hough Hemrich is a twenty-year teacher for Flora, Illinois where she teaches English, Psychology/Sociology, and Journalism. She is the chair of the English Department. After graduation from ERHS in 1990, Lisa attended the U of I graduating with a degree in political science. She later earned her master's degree in Education Administration from EIU.
She served as Republican precinct committeeman and/or County Chairlady for 20 years. Lisa is an active member of the Noble Christian Church. She served six years on the West Richland Board of Education through its most controversial period of annexation into the East Richland District. In November (2014) she is presenting a session at the Illinois School Board Association Annual Conference.
Her husband is employed by IDOT in Effingham as well as the owner of an excavation business. The Hemrich family resides in Noble, IL. Lisa and Steve have two children, a senior and a sophomore, both of whom are past Noble students who are new ERHS students this month.
Thank you very much Lisa.