TIGER ALUMNI CENTER -- Serving RCCU1 Alumni, Employees & Students
Classes of 1908 - 2018
2016 Lifetime Ceremony
2016 Annual Lifetime Achievement Ceremony
Fifth Annual Reception - Fourth LTA Ceremony
On September 24th, the Tiger Alumni Center (TAC) celebrated the lifetime achievements of six distinguished alumni and past employees of Richland County Community Unit School District No. 1 in a ceremony held at The Holiday, Camelot Room, Olney, Illinois, 1 to 3 p.m.

Mayor Ray Vaughn (Class of 1975) (Left) congratulated the recipients.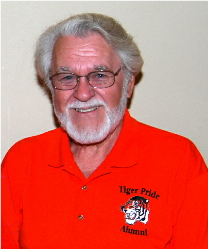 Clarence "Smitty" Smith, Master of Ceremony
The reception / Lifetime Achievement Awards celebration was administered by Clarence Smith, (Class of 1960), Tiger Alumni Center Director and Tiger Pride Alumni Association Director. He researched the careers of the recipients and, as the Master of Ceremony, summarized their achievements. He was assisted in the program by Nancy Rumsey (Class of 1966), and Richard Williams (Class of 1960). Mrs. Judy Fritschle Smith (Class of 1959) and Mrs. Barbara Olson Williams (Class of 1962) served as volunteer associates.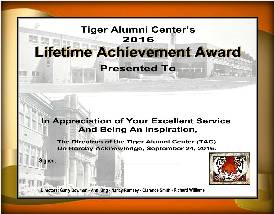 TAC / Pride Director Nancy Ramsey with Pride Director Janet Everette, 2016 LTA Recipient
Janet McKinney Everette: Mrs. Everette (Class of 1977) is the Assistant Executive Director for Richland County Housing, an agency providing housing for those in need. She is very active as a good citizen: she champions a recycling program, serves her church, participates in city cleanup days, provides a support system for OCC students, organizes Class of 77 reunions, participates in all types of fundraising, and is the current treasurer of the Tiger Pride Alumni Association.
Mrs. Everette accepted the award, thanking the members for the honor – while expressing the belief that she is too young to be receiving a lifetime award. She focused most of her comments on the good deeds of others. She introduced her husband Pat and teased him about not being a member of TAC.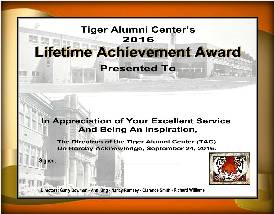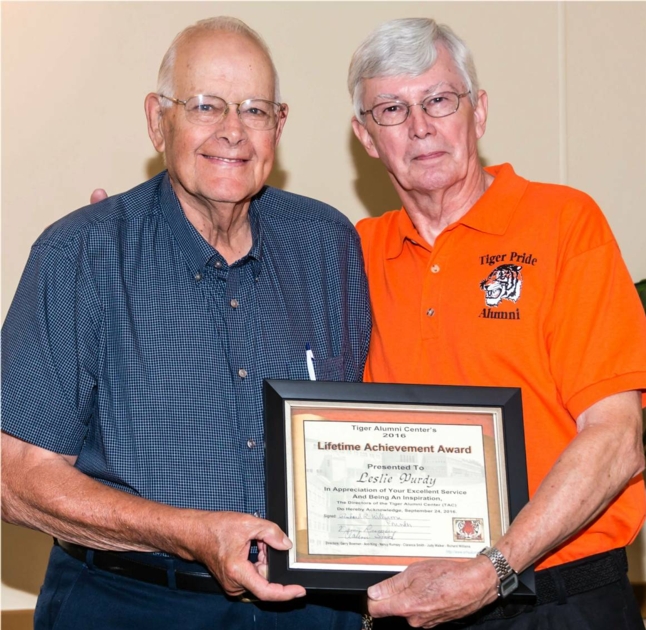 Paul Kermicle accepted the award for Leslie Purdy
Leslie Purdy: Served as Superintendent of Schools at East Richland District from 1954 until his retirement in 1978. The award being posthumously awarded, Paul Kermicle (Class of 1950), an active citizen in his church and community, a friend of Purdy's and a board member during his terms, accepted the award and shared many highlights of Purdy's tenure, including successful tax referendums that resulted in land for the then-future OCC and for the addition of the Sliva Auditorium to ERHS (RCHS).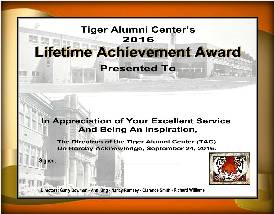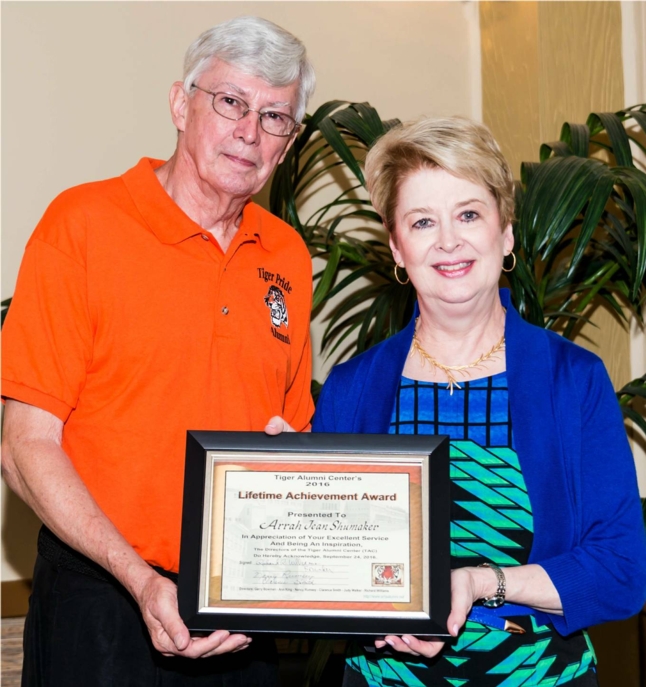 Dr. Steinhart accepted the award for her mother, Arrah Jean Shumaker
Arrah Jean Shumaker: Mrs. Shumaker served as a teacher for 40 years, until her retirement, for the school system that became the East Richland Community School District. She was a loved teacher, both as a grade school teacher at Central and later as a history teacher at the high school.
The award being posthumously awarded, Dr. Margot Shumaker Steinhart (Class of 1965) accepted the award for her mother. She shared with the audience many of her mother's activities in her drive to be the best teacher she could be, both during her career at ERHS and afterwards during her retirement when she continued serving as an educator.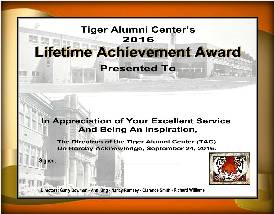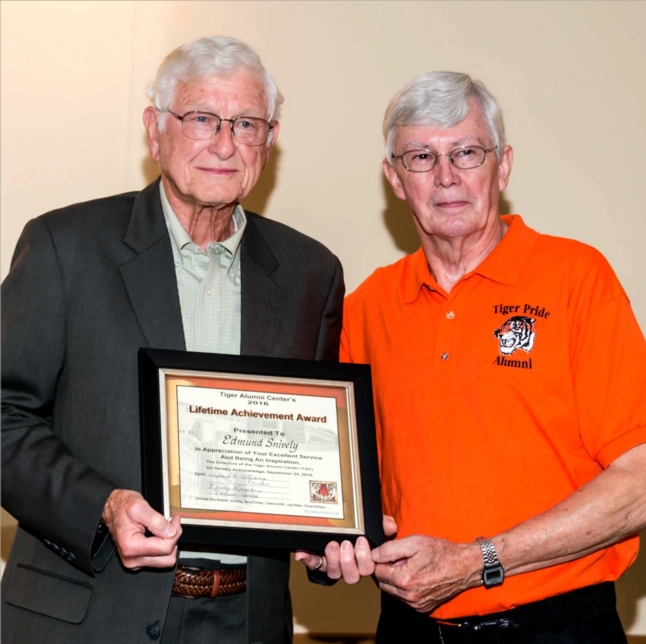 Mr. Ted Beagle accepted the award for Mr. Snively
Edmund Snively: Mr. Snively (Class of 1924) taught 46 years from 1934 until 1977. He started teaching in Olney at Central School, as a 7th grade teacher, teaching orthography, what is known as grammar today. He taught at the elementary school until 1939 or 1940 when he was assigned to teach history at Olney Township High School, which became the Olney Area High School, and, in 1952, at the then-new East Richland High School.
The award being posthumously awarded, Mr. Ted Beagle accepted the award, who spoke of the Mr. Snively's dedication, such as being the first teacher to arrive in the morning and the last to leave in the afternoon – walking every day, in the heat and the cold, sunny and rainy ones. Snively took much pride in his bulletin board for which he researched extensively. Mr. Beagle explained that Mr. Snively was one of an excellent faculty teaching at the high school at the time. He took us on a visual tour using his arm to travel up and down the halls of both stories of the school, stopping at each room and naming the teacher who taught in the room, ending with Mrs. Shumaker's.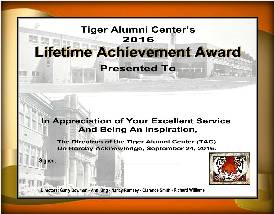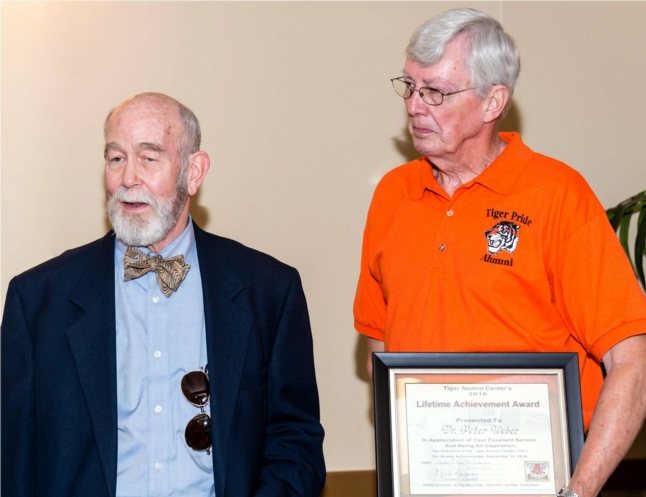 Doctor Weber Accepting his Award
Dr. Peter Weber: Dr. Weber (Class of 1963) served as Orthopedic Surgeon, from 1976 until he retired in 2011. As a local physician, he dedicated his life to the betterment of his patients. For many years, he was the only local orthopedist and he remained on call 24/7 -- not taking a vacation nor traveling as he wished to be available to his patients. When not at the office or hospital, Dr. Pete continued to study and enjoy other areas of interest. He identified local naturally growing ferns of which the experts were unaware for our region. He also continued to be an avid "birder."
Doctor Weber accepted his award, praising others, and entertained his audience with details from his life, especially his interest in area nature.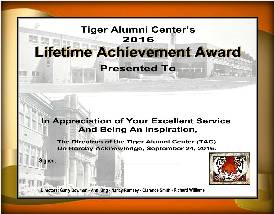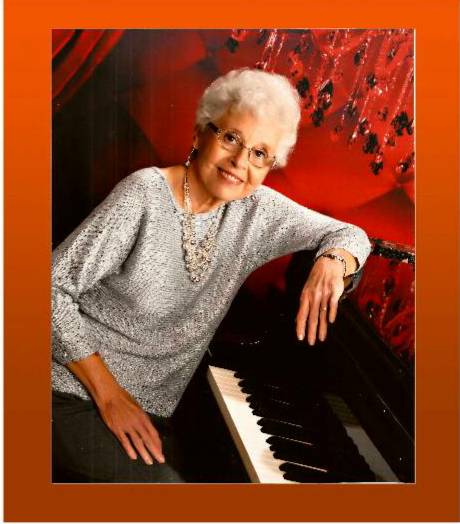 2016 Founders Award Recipient Ann Weesner King
Ann Weesner King: Mrs. King (Class of 1960) received the 2016 Founder's Award, awarded by Tiger Alumni Center's founder, Richard Williams. He selected Ann Weesner King for her 15-plus years of publishing the web magazine, "Olney Memories," since 2001 for currently over 600 subscribers, and indirectly for countless others. The issues are collections of memories written by the subscribers who share their memories and in the process entertain and inform the other readers. Many of her repeat subscribers consider her to be a historian who is connecting generations of locals and expatriates to their past and to their homeland.
Mrs. King thanked the committee and shared her joy in helping to connect many Olneans and Expatriates with each other – publishing their personal memories of "the way we were." She, also, summarized some key steps in developing the skills she needed as a web magazine producer. She reported that she knew nothing at first and blindly began collecting memories, often stumbling in her progress toward mastering the process of publishing on the net. Attending her at the ceremony was her daughter, Debbie, whom Ann credited with being a valuable assistant.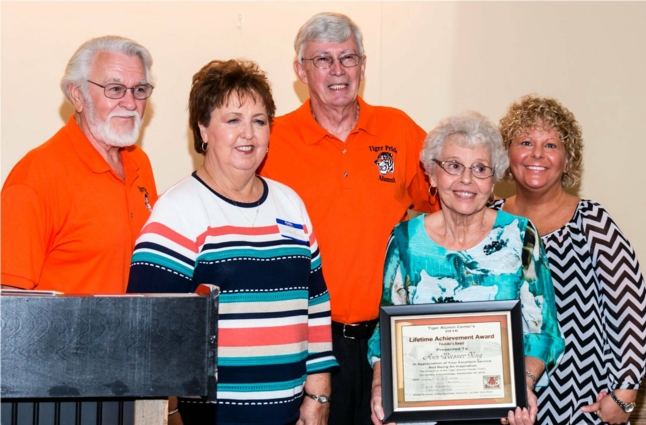 TAC Directors Poise with Ann and Debbie
Shown above are the three TAC administrators who produced this year's ceremony with Ann and Debbie. Below Debbie holds the picture board made for the ceremony by life-long friend of Ann's, Richard Williams.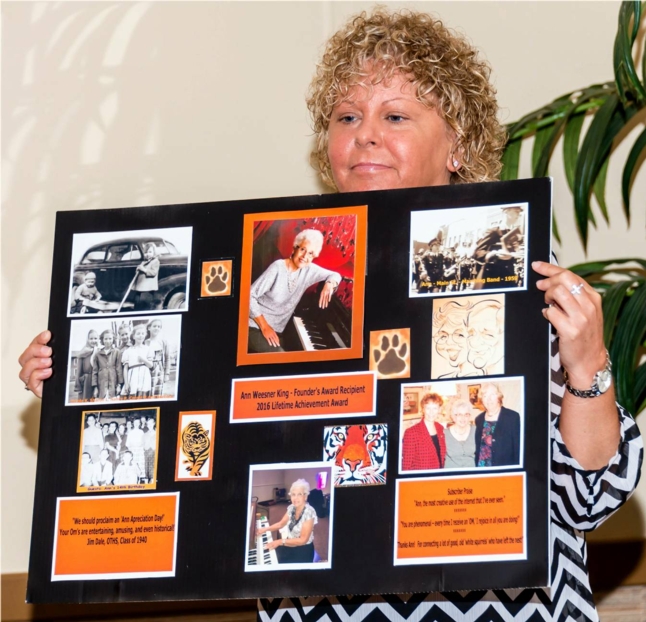 Joy Shared by Guests
Friends and family members enjoyed hearing the comments of the speakers, including those of Mr. Walter Buss (Class of 1966), a friend of the Purdy family who spoke of the achievements of Superintendent Purdy and Mr. Harold Michael who praised Ann King, his cousin, as his loving, substitute sister.
Fourth Year of the Program
This year marks the fourth year that the administrators of the Tiger Alumni Center, often assisted by directors of Tiger Pride Alumni Association, have conducted their ceremony honoring the outstanding service of current and past school employees and alumni. In total we are pleased to have honored eighteen very speical members of our school community including retirees and alumni.
Past recipients of the Lifetime Achievement award honored in the 2013 ceremony were District Employees Mary Lou Marsh Brown, Ted Beagle, and George Rumsey.
Those honored in the 2014 ceremony were District Employees Bernard Eagleton, Gail Lathrop, Larry Miller and Gus and Mary Sliva; and ERHS alumni Terry Bruce (Class of 1962) and Dr. Michael Murray (Class of 1955) and Dan Borah (Class of 1964).
Honored in the 2015 ceremony were Claribel Benson, Bernie Edwards, Amy Fletcher, Margaret Griffin, Lee Grubb, Fred Noerenberg, and Marshall Provines. Two alumni recipients were honored with the "Founder's Award." They were Frank Wagner (Class of 1965) and Tom Weber (Class of 1964). Richard Williams, founder to both the Tiger Alumni Center (TAC) and the Tiger Pride Alumni Center (TPAA), created this division of the Lifetime Achievement awards program after the 2013 ceremony.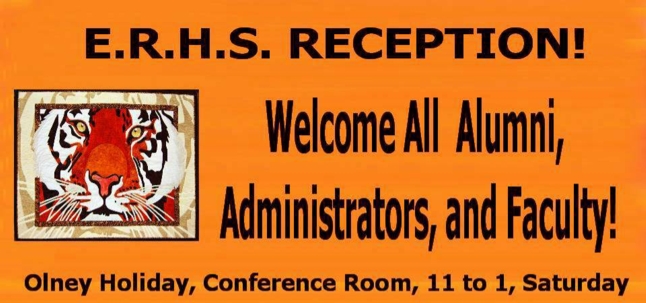 Very Special Thank You, TAC Members!
Most Lifetime Achievement Award (LTA) recipients are selected by the members of the Tiger Alumni Center (TAC). Each year, recently, the TAC members are first asked to nominate a recipient who, in their opinion, is worthy of the lifetime achievement award. At a later date, they are presented with a list of those nominated and asked to vote their choice (the number dependent on various considerations, such as the number of LTA committee members and the required candidate reseach).
The sole exception to the above is the "Founder's Award," awarded by founder Richard Williams who is totally responsible for his selections.