TIGER ALUMNI CENTER -- Serving RCCU1 Alumni, Employees & Students
Classes of 1908 - 2018
Scherer Part 4
BEFORE THE BIG YELLOW BUS
Part Four: The end of an era
In the early 20th century, Illinois had more than 12,000 school districts. Richland County, alone, was home to some 87 one-room schools, two parochial schools and the larger schools in Olney and Noble. But, by the World War II era, the population of rural students in Illinois had dropped to just one-third of the number in 1900, emphasizing the dramatic shift of rural families from the farms to cities and towns. More than 10,000 one-room schools in the state had an average enrollment of just 12 students per school.
In an effort to stay ahead of the downward trend in both the county and the state, the Richland County School Survey Committee was elected by the School Directors of Richland County on Oct. 17, 1945. Members of the committee included Harold Williamson, chairman; R. F. Beaird, vice chairman; Harry Sager; Eli Provines; N. N. Bemount; Elmer Fleming; Frank Godeke; Herbert Gillen; Harold Runyon; L. E. Delzell, advisory member; and Thornton Kistner, advisory member.
Under the Survey Law, the committee was required to divide the county into what was known as Administrative Units. In these units there would be recommended locations where school was to be held, known as Attendance Units.
The report stated that "Transportation is one of our biggest problems. Some counties are waiting for better roads before attempting consolidation. We feel that as the county and all townships have voted road bonds and the development has well started, that the sooner we get consolidation the sooner we will get our roads."
The proposed plan called for the county to be divided into three Elementary Administrative Units, which will be designated the East Richland Unit, the West Richland Unit and the St. Joseph's Unit at Stringtown. In the East Richland Unit, seven Attendance Units would be located at Parkersburg, Calhoun, Olney, Dundas, German Township, Claremont and Berryville. In the West Richland Unit, Attendance Units were recommended at Wynoose, Noble and Denver Township. St. Joseph's at Stringtown was recommended to continue as a self-governing unit.
The report was adopted unanimously by roll call vote on Feb. 10, 1947. That same year, the state's Common Unit Law went into effect, marking the beginning of the end of an American institution – the one-room rural school. The big yellow bus would begin traveling the rural roads of Richland County in the fall of 1948 – driving past the one-room schools to deliver students to the new Attendance Units.
It was a system that allowed students to learn
The one-room school buildings and their pupils and teachers were now beginning the journey to the history books. But during their existence, these small, rural schools made a substantial contribution to American democracy and the growth years of the Midwest.
Perhaps educator and historian Loren Pixley summed it up best: "The one-room rural school filled a need in the educational system very well for its time and place. Some attempts have been made to revive the system in modern school structure. While the pilot programs have shown a very good success rate, most of them have not been continued."
Inside the recently refurbished McsBurg School, showing the typical setup of a one-room schoolhouse in the early 1900s.
Like the students of today, the better pupils who were driven and wanted to learn did well in life, despite the lack of resources available today. If they wanted an education, it was there. Many went on to become doctors, lawyers, teachers, university professors, successful farmers, ministers, military generals and a host of other professions that made their lives meaningful and of great value to society.
Any listing of local students who learned their lessons well in our early schools and went on to greater achievements will no doubt contain many unintentional omissions. But, with the understanding that many deserving names will be overlooked on a list covering more than a century, we offer the following achievers. (Some attended school outside Richland County, but all were products of the rural schools and made Richland County their homes.)
Our list of noted pupils begins in 1873. Miss Ada Stout, member of the first graduating class of the original Olney High School, paid tribute to her classmates in a story that appeared 60 years later in the 1935 Olnean yearbook.
"Mary Phillips was the first woman ever admitted to the Methodist Ministry. Mary S. Powers became a writer whose pen name she never would tell. Eugene Allison was a wonderful singer. Judge T. A. Fritchey, too, had a splendid voice. Indeed, we had good singers in our school.
"Harry St. John was a fine student and became one of the best land attorneys in the West. He was a member of the Oklahoma legislature at the time of his death. Will N. Kitchell became a merchant at Topeka, Kansas. Miss Lulu Cliffe was the wife of Dr. M. D. Foster, congressman of this district.
"Charles Tripp was younger and in a lower room but deserves mentioning. He was a boy without arms but he was as active as any normal boy. He drove a horse and wagon in every morning, bringing his sisters to school. He was a good student; he did his blackboard work with his feet. He even roofed his mother's house. Later, he made his living by traveling with "Barnum and Bailey's Circus." Charlie Tripp is buried in Haven Hill Cemetery in Olney.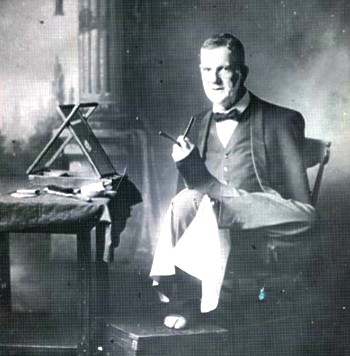 Charles B. Tripp, born with no arms or shoulder blades, attended Olney schools and proved to others that he could do most of what any normal boy could do. He is shown shaving with his foot.
From a one-room school to university president – Henry W. Shryock, a former Olney resident, became the longest serving president of Southern Illinois University. Born near the Richland-Jasper county line in Jasper County, he attended Hinman School located east of Dundas, completing the eighth grade at an early age. He then traveled to Olney to attend high school, graduating in 1882. During his 22nd year as president of SIU, Mr. Shryock died at his desk while at work, at the age of 74.
Richland County's medical legend – One of the best known and outstanding personages to have ever lived in Olney is that of Dr. George T. Weber. George Weber was born on a farm in South Muddy Township, Jasper County, into a hard-working family. After reaching adulthood, he taught in rural schools for a year and then purposed to become a physician. Upon graduation from medical college in St. Louis, he returned to his home neighborhood and opened an office at Ingraham. His reputation as a physician spread and he was a tactician in diagnosing many prevalent maladies. On May 1, 1898, Dr. Weber opened the Olney Sanitarium.
Under his leadership, the sanitarium became widely known and was the impetus of the growth of Olney as the medical center of southeastern Illinois. Other members of Dr. Weber's family decided to become physicians and nurses, including brothers Dr. Neil Weber and Dr. Frank Weber who joined the partnership around 1906. Miss Katharina Weber, R.N., his sister, became superintendent of nurses and director of the nurses' training school, which was opened in 1907. Later, another sister, Miss Minnie Weber, R.N., became a staff nurse and another brother, Dr. James A. Weber, Sr., became a staff physician.
Olney's famous "Bird Man" – The son of a pioneer druggist, the first of 10 children, Robert Ridgway was born at Mt. Carmel in 1850. At the age of four, he made his first drawing of a bird, and by the time he was 10, he had assembled a private museum and was producing accurately colored paintings of birds. In his effort to record the exact hues of the feathers, he ground pigments and combined them with gum water of his own manufacture in the backroom of his father's store.
At the age of 24, Ridgway was appointed curator of birds at the Smithsonian Institute, and he remained a member of the staff until his death in 1929. During all the years he worked in Washington, far from the Illinois county of his boyhood, he said he felt he was in prison, declaring he had been homesick for 40 years. In 1913, he returned to Olney, where he had boarded the train that had originally carried him away. While living in Olney, Ridgway established a nature sanctuary north of Olney, which after his death became known as Ridgway Bird Haven, a nature preserve once operated by the University of Chicago.
"The Town of Generals" – During its history, Richland County has probably produced more generals and high-ranking military officials than any other area of its size in the country, prompting the City of Olney to be referred to as "The Town of Generals." We have identified at least six generals, all of whom received their early educations from either one-room schools or the subscription schools that preceded them.
Dr. Eli Bowyer was breveted a Brigadier General in March 1865 for "gallant and meritorious service" in the Civil War. Born on March 20, 1818, in Warren County, Ohio, Bowyer began the practice of medicine in Ohio and continued that profession for the next 16 years in Ohio, Indiana and Illinois. In 1861, he entered the U.S. Army as an assistant surgeon and worked his way up the military ranks. Following the war, he returned to Olney where he resumed the practice of medicine and also became active in politics, serving in the Illinois Legislature, Olney Postmaster and president of the board of trustees at Southern Illinois Teachers College at Carbondale.

BG William Franklin Campbell was born in Olney in 1892. A member of the OTHS class of 1912, he was quarterback and captain of the football team, as well as an excellent student. His 35-year military career included a number of high-level positions, including his last position as Chief Quartermaster of the U.S. Army Forces Pacific. He died in 1964 and is buried in Arlington National Cemetery.

MG Reginald C. Harmon, USAF, was born in February 1900, on a farm near Olney. After graduation from high school, he taught at a country school for two years before entering the University of Illinois and graduating in 1927 with the degree of Juris Doctor (J.D.). His military career began with the U. of I. Reserve Officers Training Corps (ROTC), in 1926. In civilian life, Gen. Harmon practiced law in Illinois from 1927 to 1940. From 1929 to 1933, he served two terms as mayor of the City of Urbana (Ill.), first elected as the youngest mayor of a town that size anywhere in the United States. In 1940, he was called to active duty in the military and served in numerous positions. He retired in 1960 as head of the Legal Department of the Air Force, overseeing approximately 1,400 lawyers and 1,900 non-lawyers assigned to some 400 different legal offices throughout the world.

BG Dale Bowlby Ridgely, U.S. Army, was born in March 1900. (His sister, Joy, born in 1896, married Brigadier Gen. William Campbell.) Gen. Campbell entered military service in 1926, soon after graduation from St. Louis University. He graduated in 1934 from the Medical Field Service School and attended the post-graduate course of the Army Dental School in 1935. In 1950, he was assigned chief of dental service of the 97th GH in Germany, and served in top positions in numerous military hospitals throughout the country.

Gen. Christian F. Schilt, USMC, a pioneer of Marine Aviation and winner of the nation's highest decoration, the Medal of Honor for bravery, retired from the Marine Corps in April 1957. He saw action with the Leatherneck air units in both world wars, the Haitian and Nicaraguan campaigns and the Korean fighting. Born in March 1895 in Richland County, he graduated from Olney Township High School in 1914, where he played both football and basketball. He attended Rose Polytechnic Institute at Terre Haute, Ind., and enlisted in the Marine Corps in June 1917.

Major General Edmund Sebree, U.S. Army, was one of the most famous generals during World War II, being in charge of the first army troops in the Battle of Guadalcanal. He later commanded two divisions in France and Germany after the D-Day landing by Allied Troops at Normandy. As a member of the OTHS class of 1916, he was a three-letter man during both his junior and senior years. He later became a brother-in-law to Gen. Christian F. Schilt.
Teachers from the past
Over the years, Richland County has had hundreds of outstanding teachers who richly deserve recognition – if only we had their stories. Again, at the risk of overlooking many, we will list some of those of whom we are aware:
One of those early teachers whose story has emerged often was A. L. Kent, who seems to have been very beloved and respected by his students. Aaron Lytle Kent was born in Richland County in September 1845 and died on April 8, 1913. He attended the district school and later a select school in Olney. His father, David, was one of the county's earliest settlers. At the age of 20, Aaron began farming in the summer and teaching in the winter. He taught at several county schools, including Oregon, Calhoun, Zion, Fransonia and Olney. Mr. Kent kept a cherished autograph book, which contained the signatures of his students at the various schools. He wrote in his book, "This album is most dear to me. Sacred to love and memory; Let every line or flower be, a pure bright gem of constancy, Jan.12, 1883."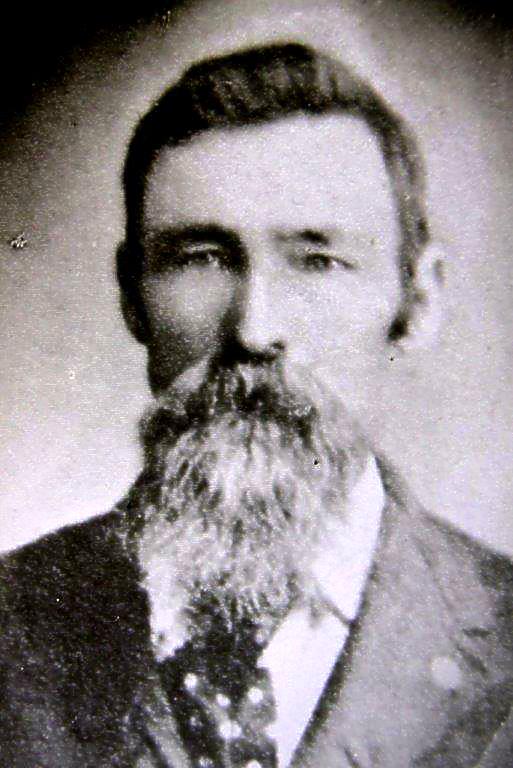 Records show that Aaron Lytle Kent, born in 1845, may have been one of Richland County's most respected and beloved early teachers.
Mary Lou Brown was a teacher in several of Richland County's rural schools, as well as the city schools in Olney. She began teaching fourth grade in 1940 at Central School, but later began teaching art. "While teaching at the one-room schools, I remember the children were so delighted to have a break from the regular studies," she said. "Oh, they were good. They were such good little fellas." Upon our request, Mrs. Brown painted the illustration that became the cover of the book, "Before the Big Yellow Bus."

Leona Doan Davis recalls, "When we came to Olney, I was just a 'little country girl.' (As a high school student), it was suggested by Supt. Hostettler that I start writing on Teachers' Exams. Each subject passed would not be taken again, therefore I had my certificate before I was old enough to teach. I never had many schools in my 30 years or more with children. I chose to stay two, three or even four years in one school; then I could check on my mistakes in trying to guide the children. All my years of teaching never accumulated much money but I loved it."

Doris N. Ridgely (Olds) was born in Bonpas Township. As the youngest of six children, she joined a family already steeped in a tradition of serving education by teaching. Doris attended grade school at Red Head School and graduated in 1928. She attended Parkersburg High School for one year before going to Chicago in 1929 to continue her high school work at Lewis Institute (where she met her future husband). In 1941, they moved back to Illinois and in 1942 she began her Richland County teaching career, teaching at Kimmel, Pleasant Valley and Calhoun High School, where she retired.

Lola Jaques and her husband, Rolla, came to Richland County in September 1926 from Edwards County, where both had taught. Here, she began teaching at Moore School, where she felt very fortunate to get the job because very few married women were being hired at that time. After substitute teaching in Olney schools for 13 years, she decided to go back to the rural schools in 1941 because of the scarcity of teachers. She once remarked, "The young people of today have no idea what teaching was like 40 and 50 years ago, when the teacher had to depend on her own ingenuity from doing the janitor work to thawing out frozen fingers."

Mabel Wilson Williamson began teaching following graduation from Olney Township High School, after passing the written exam. She taught in several rural schools, including Dundas, Shady Grove, Hazel Dell and, after consolidation, Central and Cherry schools in Olney. She recalled, "Most of the pupils were capable and cooperative. They came from homes where the parent believed that discipline and certain standards of conduct were basic to growing into good law-abiding citizens. There weren't many cases where punishment was necessary."

When Maude Galloway Hance was five years old, her brother would not go to school unless his sister went, too. So, "Mama decided to let me go for a few days until he got used to going. But, school was such a delight to me that I did not want to quit, and I didn't." The teacher asked at the end of the first day how she liked school. "My reply was, 'I wisht I was the teacher.' That was my only real goal in life." Mrs. Hance taught at numerous schools in the county, all of which "had less than 20 students and I can still name each one," she once said. "They were all so special."

After teaching one year at Brinkley School, Alberta McCreery, began teaching at Eyer School in 1939. "I rode my 'Billy Horse' back and forth to school. The directors built a fence around the playground for Billy to stay in. They also built a shed. I would pick up (student) Samuel Beck, who lived close to us. He sat behind me on Billy." She said, "We would take Billy Horse to the creek and put as many children on his back that would fit. Billy Horse loved the children and he had a sense of humor. When at the creek, he would kick his foot in the water and splash the children. We would play hide-and-seek and Billy Horse would show where we were hiding."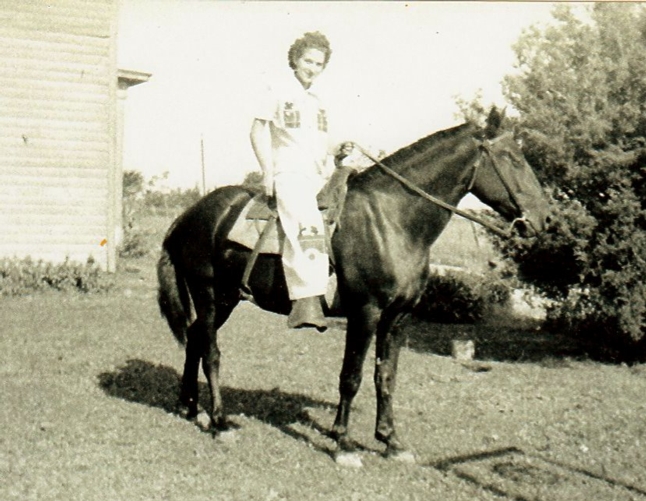 Alberta McCreery, who taught at Brinkley and Eyer schools, rode her beloved "Billy Horse" to school each day. Her father, a prolific amateur poet, penned a poem about Alberta and Billy, which can be found in the book, "Before the Big Yellow Bus."
At least one Richland County teacher received national exposure following her teaching career. By the time the Gay Nineties arrived, Claremont was ready to join the rest of the country in the gaiety that was typical of the period. To enhance social life, a lake, along with a large hotel and tavern, was built near the village that became a popular "Sundaying" center. Special excursions by train were operated from St. Louis to the Claremont Resort. It was, perhaps, the activities at the resort that caused one of Claremont's school teachers to be a candidate for one of the highest offices in the land. Miss Marie Brehm, a Claremont teacher during the 1887-88 term, was the sister-in-law of the resort's owner. Much the opposite of her brother-in-law, she was an ardent advocate of prohibition and women suffrage, and a lecturer and active worker in the Presbyterian Church. She worked her way to the top of the National Committee Prohibition Party in 1920. In the national election of 1924, the Prohibition Party had placed Marie Brehm on their ticket as candidate for vice president of the United States.
A sentimental era comes to an end
Since the consolidation of the one-room schools, the beat goes on. Recently, the Richland County schools that consolidated in the middle of the 20th century have consolidated once again, merging into four schools in Olney – the elementary school, the middle school, the high school and St. Joseph's Parochial School. In 2010, a new church-sponsored school, East Orchard Christian Academy, opened its doors, leaving the county with a total of five schools.
Over the years following their demise, much would be written about the one-room school and many memories would be shared as folks reminisced about the "good old days." Standing vacant, some would be transformed into community centers, a place for local farm families to gather and socialize. Some in Richland County would host chowders and dinners for people to come from near and far to enjoy friendly fellowship and good food.
Some abandoned schools became corn cribs and sheds for nearby farmers. A few were even converted to residences, several of which are still occupied by families in Richland County.
Two of the county's early one-room schools have been restored in recent years. The McsBurg School, originally refurbished by the Olney Garden Club, and later undergoing a second restoration under the ownership of the Richland Heritage Museum Foundation, was recently moved next door to the Heritage House Mansion in Olney, The red brick Eyer School, thanks to the private efforts of the local Eyer family (Sam, Glenn and Mike Eyer and Mike's wife, Julie), whose name it bears, restored that structure by rebuilding the roof, which had been ripped off in a 1999 tornado.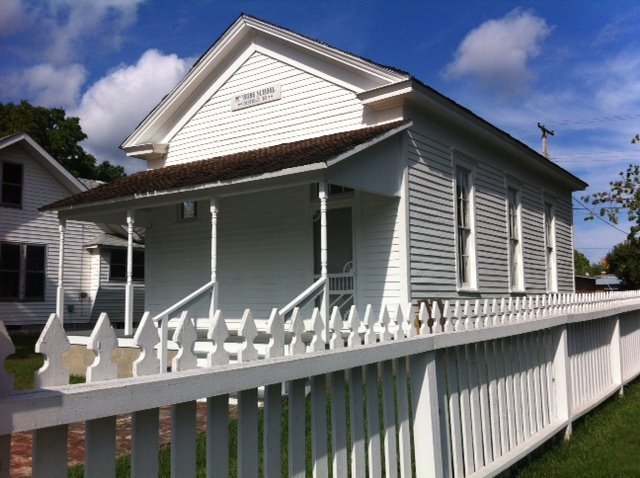 The McsBurg School, built in 1874-75, was first refurbished by the Olney Garden Club and again by the Richland Heritage Museum Foundation, and moved adjacent to the Heritage House Mansion, where it is open to the public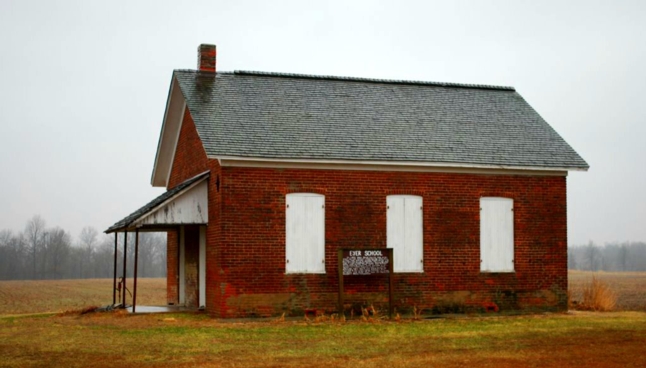 The Eyer School was built in 1871 by John Beck, with bricks made locally by Jacob Goss. This brick building replaced the original log structure and was saved from further deterioration when the Eyer family replaced the roof that was destroyed by a tornado in 1999.
The preservation of these buildings – especially the McsBurg School, which is open to the public – serves as a reminder of a golden era for the many local residents who never had the opportunity to walk two miles to school in deep snow, sit in a chilly room waiting for the old wood stove to heat up, get a swat on the rear for misbehavior, visit the outdoor toilet in sub-freezing weather, and use a hand pump to draw water from a well and drink from a common tin cup. But most of the old school buildings, after their primary life was over, were either demolished or just left standing until they collapsed from their own weight – not a very glorious end to buildings that were once the pride of their community. Oh, they were often filled with smoke from the old coal stove, littered with tracks from the mud and snow, and sometimes witness to a child's spanking with the dreaded hickory stick, but they were always filled with the sound of laughter from playful children.
Their job is over. If only their walls could have talked before they left us.
**********
Editor's note: This completes our four-article series on the history of the early schools of Richland County. The information was gleaned from the 300-page large format book titled, "Before the Big Yellow Bus," which contains 270 historic photographs and hundreds of names and comments from area families dating back to the 1800s. The book is in The Abraham Lincoln Presidential Library and Museum and is available on Amazon and the book's website: https://beforetheyellowbus.wordpress.com/. You may contact the authors: Ron Scherer at rscherer@htc.net; or Yvonne Scherer Meckfessel at pagewriter405@yahoo.com.