TIGER ALUMNI CENTER -- Serving RCCU1 Alumni, Employees & Students
Classes of 1908 - 2018
Glenda Hinkle
Welcome Glenda, Class of 1982, to TPAA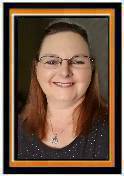 Glenda Hinkle, Director, 2018
Glenda is a nurse, an RN, who is currently working at Lakeland Healthcare in Effingham. She is married to Jason Hinkle, and they have an 11-year-old son together.
She writes, "I have two grown boys from my first marriage, 29-years-old and 31-years-old. I have five grandchildren and three step- grandchildren.
My hobbies are reading and flower gardening when I have time."