TIGER ALUMNI CENTER -- Serving RCCU1 Alumni, Employees & Students
Classes of 1908 - 2018
Clarence Smith
Clarence Smith
TPAA and TAC Director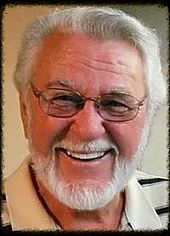 Clarence Smith is from the Class of 1960. His wife, Julia "Judy" Fritschle Smith, is from the Class of 1959. He has three daughters: Michelle, Class of 1983; Lori, Class of 1988; Stacey, Class of 1993. Judy has a daughter, Kara, Class of 1981; a son, Kevin, Class of 1983. They have three grandsons and two great-granddaughters.

Sample of Smtty's Art
Following high school, Clarence took a correspondence course in art. He retired after thirty-three years of service with the Olney Fire Department. He is a life member of the Elks; a member of the Richland Country Club; a member of the County Line Rod & Gun Club; a member of the Richland Heritage Museum Foundation, assisting wife, Judy, who is the Carnegie Museum Curator; a Big Brother/Big Sister mentor for five years; an administrator of the Tiger Alumni Center; and serving on the Lifetime Achievement Awards committee.
He and Judy enjoy riding their motorcycle and have ridden in all forty-eight states, and they are Life Members of the Gold Wing Road Riders Association. They also enjoy participating in car shows with their corvette.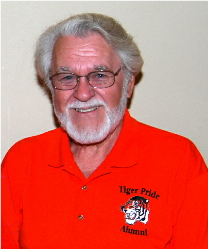 Smitty was a busy man enjoying his clubs and other retirement activities when I asked him to be one of the founding directors of the coming Tiger Pride Alumni Association. He agreed, knowing I needed him and knowing our goals to help our school. That was in August, 2014.
About a year later, I asked him to volunteer again, this time to serve on the Tiger Alumni Center on the "Lifetime Achievement Committee." Again, he said 'yes.'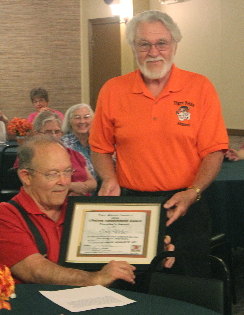 If I were to list the top ten of the most impressive people I have ever known, Smitty would be on that list. He is one of the kindest persons I have ever known. I know that he will be both truthful and kind when I ask for his opinion. He also knows that I want it unvarnished -- knows I value his insights. Such a person is "Gold." And on top of everything else is trust. You can depend on him: he does what he says he'll do.
I have been in a room where people didn't know him and, like my father-in-law, Harry L. Olson, by the time the meeting is over, he's generated much joy.
Thank you very much, Smitty!